[SatBroadcasting(tm)] Extending a ten-year alliance, SES WORLD SKIES, a division of SES S.A. (Euronext Paris and Luxembourg Stock Exchange: SESG), has announced that Clear Channel has renewed capacity deals for 144 MHz on four satellites to deliver connectivity and content to subscribers and audiences nationwide.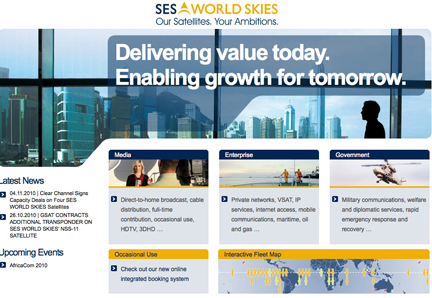 SES WORLD SKIES homepage link...
Under the agreements,
Clear Channel
has secured 46 MHz on
SES-1
, 36 MHz on AMC-8, 36 MHz on
AMC-9
and 26 MHz on
AMC-1
to offer a wide range of services, including radio broadcast and backhaul, Internet access, SNG and turnkey disaster recovery communications. Thousands of commercial radio stations across the U.S. use Clear Channel for satellite-delivered content, distribution, or emergency backup services. Television stations from coast to coast rely on Clear Channel's 24/7 Network Operations center for SNG bandwidth to cover breaking news. Clear Channel's satellite-delivered Internet access and disaster recovery services are experiencing significant growth on the
SES WORLD SKIES
fleet.