[SatNews] RacoWireless has completed the integration between RacoWireless' Position Logic platform and the Automatic Vehicle Location (AVL) Agent with IsatData Pro Satellite M2M devices from SkyWave Mobile Communications—the integration creates a fully integrated software and hardware solution, streamlining communication and support for customers in the fleet management industry.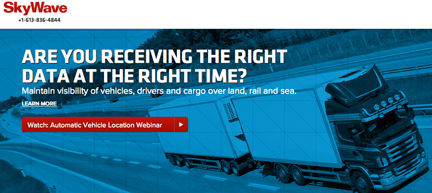 SkyWave is a global provider of satellite and satellite-cellular terminals, applications, network and professional services for mobile and fixed remote industrial tracking, monitoring, control, and management. The SkyWave AVL Agent is an embedded Lua application developed for easy integration with a solution provider's fleet management application; it eliminates the need for any upfront Lua programming, enabling more rapid customer deployment, easier installation, configuration and use. The AVL agent provides a variety of pre-set event-based reports with configurable thresholds that support user requirements for location tracking, vehicle status and driver behavior monitoring features.
RacoWireless has incorporated its industry leading GPS tracking platform Position Logic with the satellite and satellite-cellular tracking solutions from SkyWave in an effort to create a more seamless customer experience. Combined, the two technologies increase visibility into a fleet's operations and allow managers to run their fleets more efficiently by sending position and status reports, tracking drive time, excessive speeding, and more, whether or not the vehicle is in cellular coverage.
The integration of both RacoWireless' Position Logic platform and SkyWave further expands market reach into new geographies and verticals for both companies.
The RacoWireless infosite may be accessed at http://www.racowireless.com/
Access SkyWave's infosite at http://www.skywave.com/