Orbital ATK, Inc. (NYSE: OA) will display their wide range of satellite, space launch, propulsion and logistics technologies during the SATELLITE 2017 conference and exhibition, March 6-9 at the Walter E. Washington Convention Center in Washington, D.C. at Booth 1423 in exhibit halls B/C.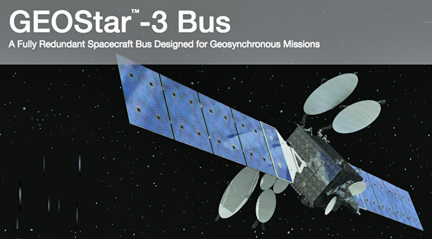 Specific satellite systems on display include Orbital ATK's GEOStar-2 and GEOStar-3 geostationary Earth-orbit (GEO) communications satellite platforms as well as the company's medium-, small- and microsatellite-class systems primarily used in low-Earth orbit (LEO). Also featured will be small national security satellite systems such as GEOStar-1, and RapidStar-2.
This year, Orbital ATK will highlight progress that has been made with the company's innovative satellite servicing technology, the Mission Extension Vehicle (MEV). The company has signed a contract to deliver in-orbit satellite life-extension service to an Intelsat satellite and will launch MEV-1 on a co-hosted payload with Eutelsat 5WB in 2018. Additionally, Orbital ATK has relocated its state-of-the-art rendezvous, proximity operations and docking lab to its Dulles, Virginia headquarters where MEV-1 will be built.
Two individuals from Orbital ATK will speak in panel discussions at the conference. Mike Glogowski, Senior Director Electric Propulsion, System Architect, will participate in the "Electric Propulsion: Another Tool or Fundamentally Changing Economics of Space" discussion on March 6 at 3:30 p.m. in room 201. Frank Culbertson, Orbital ATK Space Systems Group President, will take part in the Wednesday, March 8, Opening General Session: Satellite Manufacturers Executives at 8:30 a.m. in room 202.
The Orbital ATK booth will represent the company's space launch vehicles, propulsion systems and space logistics services. The launch vehicles will include Orbital ATK's Antares, Minotaur and Pegasus vehicles, all of which use commercially available propulsion. These three flight-proven vehicles launch small and medium payloads worldwide. The booth will also include a special profile on Orbital ATK's ESPAStar-1 spacecraft, which offers delivery of small satellites to LEO or GEO orbit. In addition, the booth will feature the company's enhanced Cygnus™ spacecraft, which will launch on its next mission for the third time in the past 12 months on March 2017, carrying crew supplies, equipment and scientific experiments to the International Space Station.
Also on display are products that showcase Orbital ATK as a leading supplier of spacecraft components on domestic and international platforms. Those products include bus structures, antenna reflectors, solar array systems, space thermal hardware, deployables and propulsion tanks.
Visitors to the Orbital ATK exhibit will have the opportunity to learn more about all of the company's advanced, flight-proven product lines through animated videos, fact sheets and product models. Additionally, Orbital ATK subject matter experts will be available to answer questions and provide additional information.