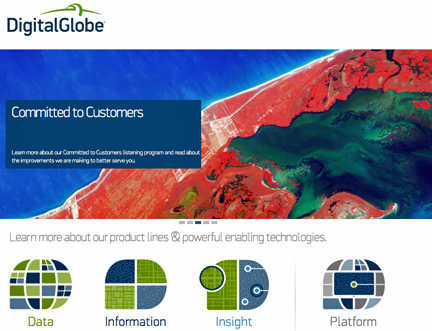 [SatNews] The DigitalGlobe blog has posted information regarding the first images from the company's recently launched WorldView-3 satellite.
On August 13, 2014, DigitalGlobe launched WorldView-3 into orbit. On August 19, six days after launch, their team completed the commissioning of the satellite bus and opened the door on the main telescope to start observing Earth.On August 21, DigitalGlobe completed their focusing and achieved Initial Operational Capability ("IOC") on the entire suite of WorldView-3's 27 super-spectral bands.
Jeff Tarr, Chief Executive Officer, said "We are delighted that even in the early stages of calibration and commissioning WorldView-3 is revealing new insights that will enable customers to address some of the most pressing global challenges. WorldView-3 performance is exceeding our expectations and is a great step forward in helping our customers make critical decisions with confidence as they save lives, resources and time."
The company is now able to share several WorldView-3 image examples from their collection of Madrid, Spain, and they highlight a variety of use cases for existing and new DigitalGlobe customers. Due to regulatory restrictions, the company is unable to display the 30cm native resolution data, so they are sharing imagery that has been re-sampled to 40cm, with the compressed ".jpg" images available at https://app.box.com/s/ahcvedf8f1c44bg74nl8.
Highly precise images of our changing planet are important for decision makers managing Earth's natural resources. With WorldView-3, DigitalGlobe can automatically distinguish different colors, textures and measure change over time which is important for the energy sector, conservationists, and governments. The firm's Short Wave Infra-Red (SWIR) sensor will multiply the value of WorldView-3 imagery by enabling the detection of specific mineral content and species of vegetation through signatures not identifiable with the naked eye.
WorldView-3 can also more accurately monitor the rate of development and investment at a regional or global scale. This includes the rate of construction as well as finer details like building materials, roof-top reflectance, road networks and population density, which is valuable to governments, industry and location based service customers. In one example image, individual shipping containers can easily be counted and measured which is valuable information for monitoring economic activity and trends at various marine ports, airports, rail yards and other logistics hubs.
Note: DigitalGlobe formally notified the U.S. National Oceanic and Atmospheric Administration (NOAA) of WorldView-3's IOC, which means that beginning on February 21, 2015, we will able to deliver 30 cm imagery to all of our customers. In the meantime, we will make 40 cm panchromatic and 1.6 m multispectral data available to our customers when WorldView-3 completes its validation and testing. Data from the satellite's new shortwave infrared (SWIR) sensor will also be available to customers, however the resolution of this data will be restricted to 7.5 m while NOAA is conducting a six-month study of the capability.
The DigitalGlobe infosite may be accessed at http://www.digitalglobeblog.com/