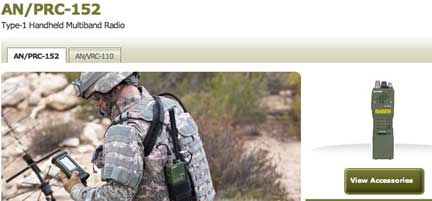 [SatNews] Harris Corporation (NYSE:HRS) has received a $6.5 million order from the...
...U.S. Air Force for Falcon III® multiband, multi-mission handheld radios. The U.S. Air Force is acquiring the Falcon III® AN/PRC-152(C) to provide line-of-sight communications to civil engineering teams for a range of ground-based missions, such as fire and emergency management and explosive ordinance disposal. The Air Force is acquiring the AN/PRC-152(C) radios via the Consolidated Single Channel Handheld Radios Project through the Joint Program Executive Office Joint Tactical Radio System (JPEO JTRS). The AN/PRC-152(C) is the most widely fielded NSA Type-1 certified, JTRS SCA-certified handheld radio, with more than 160,000 units deployed worldwide. The radio provides capabilities such as SINCGARS interoperability, ultra high-frequency (UHF) ground-to-ground line-of-sight communications, close-air support and programmable encryption.
The AN/PRC-152(C) was developed using the JTRS Enterprise Business Model, which encourages companies to develop next-generation solutions in tactical communications using their own investment capital to integrate JTRS waveform software. This approach stimulates competition, increases innovation, and reduces costs through software re-use.