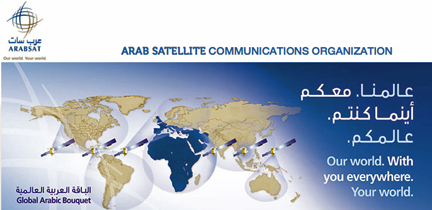 [SatNews] Arab Satellite Communications Organization (Arabsat) is participating in the International Broadcasting Convention (IBC) held in Amsterdam, Netherlands, from 12th -16th September 2014.
This exhibition is considered the largest international gathering attended by many TV channels and satellite TV broadcasting officials.
Eng./ Khalid bin Ahmed Balkheyour, President &CEO of Arabsat, said, "Arabsat will present its state–of-the-art services provided through its fleet of satellites operating on orbit. We'll also present Arabsat new Satellite Badr-7 capabilities, which was taken into account when designed to be provided with the advanced technology that will inaugurate a new era in combining satellite broadcasting and telecommunications services. Badr-7 is expected to be launched by the end of 2015 to cover the Middle East and central Asia from Arabsat exclusive Hot Spot 26 degrees East."
Additionally, the satellite operator in Greec,e Hellas-Sat , owned by Arabsat, will participate side by side with Arabsat in the show after a similar successful participation during CABSAT in Dubai last March.
The Arabsat infosite is accessible via http://www.arabsat.com