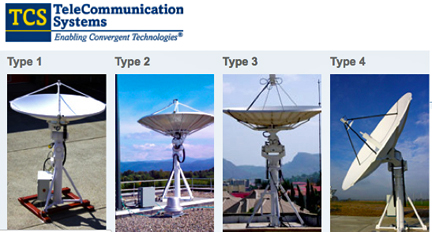 [SatNews] TeleCommunication Systems, Inc. (TCS) (NASDAQ: TSYS) has announced the availability of its X/Y Tracking Antenna Systems.
These precision systems are specifically designed for Low Earth Orbit (LEO) and Medium Earth Orbit (MEO) satellites in support of Earth observation, remote sensing, and telemetry, tracking and control applications. Initial orders are now shipping to small satellite operators that are offering a cost-effective and pervasive earth observation data solution.
According to a November 2013 Euroconsult report, LEO and MEO satellites will account for approximately 66 percent of the 1,151 satellite launches forecasted over the next 10 years. This is expected to create a higher demand for more ground station terminals and antenna systems capable of tracking these satellite systems. The reliable, field-proven X/Y Tracking Antenna Systems can be securely operated from anywhere in the world through the systems' control and monitoring capability. The systems' X/Y axis configuration eliminates the keyhole (lost data) effect that occurs with other tracking antennas when they cross through the zenith.
Through TCS' simplified design and advanced manufacturing techniques, a wide selection of antenna reflector and X/Y pedestal sizes in both deployable and trailered configurations are available, enabling customization while maintaining cost and delivery advantages. The antenna reflectors are manufactured from carbon composite, allowing the systems to maintain their shape in extreme heat and cold, thereby making them ideal for tracking applications anywhere on the globe. Feed assemblies for data transmission and receipt include both right-hand and left-hand circular polarized configurations from L-band through Ka-band.
For further information on these antennas, access this direct infopage link.