An Iranian unmanned aircraft shot down by the U.S. military over Iraq was operating illegally and unsafely, but its presence should not come as a shock, a Pentagon spokesman said Tuesday.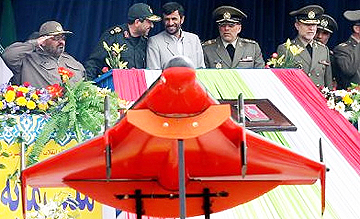 The drone shot down last month was the first of its kind discovered over Iraq, Pentagon spokesman
Geoff Morrell
said. He would not speculate on what the drone was looking at. "I, frankly, don't know why it should come as a surprise to anybody. The Iranians have tried multiple methods of destabilizing the government in Iraq, of providing extremist groups with the means to attack our forces and Iraqi security forces,"
Morrell
said during a Pentagon news conference.
U.S. jets shot down the Iranian surveillance aircraft about 60 miles northeast of Baghdad, the U.S. military said. That puts the drone well inside Iraq's borders. "This was by no means a mistake,"
Morrell
said, adding the U.S. is inspecting the wreckage. "We couldn't allow it to remain there, in part, because it was operating in an area that a high air traffic zone and would have presented a danger to coalition aircraft, not to mention the fact it was in violation of sovereign Iraqi air space," he said.
The drone was about 60 miles (100 kilometres) from Baghdad, the spokesperson said. "The pilots were directed to shoot the UAV down after determining there would be no possibility of collateral damage. The UAV was believed to be an Iranian 'Ababil 3' model UAV." Iraqi defence ministry spokesman Brigadier General
Mohamad al-Askari
stated the drone had been shot down close to the main U.S. air base in Iraq at Balad, some 45 miles (70 kilometres) north of the capital. "The drone travelled about 130 kilometres (80 miles) through Iraqi airspace," he said.
The report came at a time when Washington is tentatively seeking to unfreeze relations with Tehran, which has made no comment on any drone incident in Iraqi airspace. U.S. President
Barack Obama
has pledged to offer diplomatic engagement with U.S. foes, including Iran, to test if there might be scope for negotiated solutions to conflicts. Last week, however,
Obama
said he had extended one of the many levels of sanctions against Iran, imposed in 1995 over charges that Tehran dealt in terrorism and sought weapons of mass destruction. Washington remains "cautious" about the growing ties between the two Shiite-majority neighbours, repeatedly accusing Iranian-linked groups of attacking U.S. troops in Iraq as well as Tehran's future influence on the now Shiite-dominated government in Baghdad as relations strengthen.
(
Photo: Iranian model of "Harpy" UAV
)