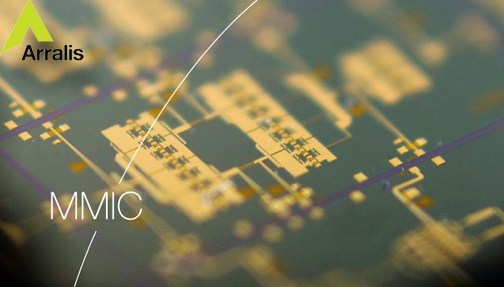 Arralis has launched their new Leonis Ka-band chipset to complement the firm's growing millimeter wave communications product portfolio.
Ka-band antennas are 400 percent smaller than their Ku-band rivals, which opens up the consumer and connected vehicle markets to high data rate and low latency satellite communications. Companies such as Facebook, Inmarsat and SpaceX have recently announced their plans to use Ka-band to provide broadband services around the globe with the initial SpaceX deployment consisting of an unprecedented 4,425 satellites with Ka-band payloads. This first of its kind Ka-band chipset from Arralis comprises all of the circuits that are required to build a Ka-band satellite and ground front end that will connect easily with high power amplifiers and antennas.
The Leonis chipset was developed to meet the needs of the growing demand for low cost, Ka-band satellite equipment that is simple to interface with current digital internet hardware. Applications include 5G communications, airborne high speed WiFi, LEO mega constellation communications, drone constellations and SATCOM-Drone-Ground data networks, satellite to automotive connectivity, connected vehicles, last mile and remote internet solutions, as well as IoT and M2M communications.
The full transmit and receive band coverage (17-21 GHz and 27-31 GHz) allows for both ground to space and space to ground applications and employs image cancelling IQ mixers that can be directly interfaced with modulators and demodulators. Both bands have a 21dBm output power amplifier, an ultra-low noise amplifier, up and down converter mixers and a high output VCO to serve as the local oscillator.
In addition, this set is available as a core chip, packaged in a QFN format that will allow a complete RF transceiver to be built with just three chips. An evaluation board is also available to enable developers to quickly experiment and prove designs before committing to production. The devices are all fabricated on a low noise, space-qualified gallium arsenide process to ensure a wide temperature range and long term reliability. The chipset is designed as a one-stop communication solution; from satellite hardware to airborne through to ground.
In addition, Arralis are also announcing significant 2017 expansion plans in the US. Roll out of operations from their existing LA base will include investment in a US factory and supply chain along with the creation of 50 high end jobs. A recent 50 million euors investment by a Hong Kong based private equity consortium will allow Arralis to meet growing demand for devices both in space and on Earth and will facilitate the US expansion as well as enabling Arralis to evolve their space technology and develop their supply chain to advance global consumer experiences in communications, aviation and automobile industries.
The company continues its partnership with the renowned Starburst Accelerator to significantly expand US sales and operations to capitalize on the recent successful delivery of Arralis products to some of Starburst's corporate partners who are a "who's who" of aviation and automotive giants.
Speaking at the launch, Arralis CTO Mike Gleaves noted that this chipset is all about making satellite broadband accessible and opening up bandwidth to the connected consumer and vehicle. In designing this solution, the company was conscious of the consumer on the move where traditional approaches and terminal sizes are not practical. Leonis enables greater throughput in a smaller, lighter and lower cost package which is essential for consumer adoption.
Barry Lunn, the Founder and CEO of the firm, added that the growth in the US since Arralis entered the market with the firm's partner, Starburst, has been helped by the explosion in consumer level sensors — true autonomy, he said, be it drones, cars or flying cars, requires military grade vision and communication systems. The winners here will be the players who have that long term vision.