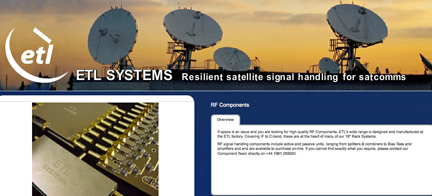 [SatNews] A new Components Mounting System will be among products demonstrated by ETL Systems, a global designer and manufacturer of RF distribution equipment for satellite communications, at this year's IMS show in Florida.

Flexibility and ease of use is at the heart of the design of the 1U 19 inch chassis which accommodates a range of different modules, including two-way, four-way and eight-way splitters and combiners. The new system is already in use, with a prominent market leader in the oil and gas sector being among the first customers. It can also be used for broadcasting and on satellite teleports.

"Depending on the application the customer is using it for, they can fit all two-ways, all four-ways, all eight-ways or a combination of all," said Dominic Overton, Components Sales Executive, ETL Systems. "It is ideal for use in VSAT applications for the oil and gas sector because of its flexibility to accommodate different stacks and modules all within the one chassis. Another advantage is its very compact, making it the perfect solution for sites where space is at a premium."

Visitors to IMS will also be able to see a demonstration of ETL's new Ku- and Wide band splitters and combiners. Both of these are available in two-way, four-way or eight-way with 50O impedances and SMA connector types. Typical applications include telecom infrastructures, military comms and radar networks, with the products offering consistently excellent RF performance. More established products in ETL's huge RF components range will also be available to view, including multiplexers, couplers, equalizers, and passive and active splitters and combiners. Customers who are not able to find a product off the shelf to meet their specifications will be able to talk to ETL's expert team about custom design and build. With a quarter of century of experience in designing award-winning RF equipment, ETL can meet even the most complex of individual specifications.

Demonstrations at IMS 2014
New! ETL Systems' Components Mounting System—Easy-to-use, cost-effective and compact, ETL's new components mounting system is designed for ETL's "Scorpion" range of passive L-band splitter / combiner components. The 1U 19" chassis accommodates ETL's 2, 4, and 8-way passive splitter/combiner modules. It aims to use standard 19" mounting systems to allow neat mounting of RF components.

Splitters & Combiners—The ETL splitter and combiner range includes passive splitters/combiners, active splitters and active combiners, covering IF, L-band, S-band, C-band, Extended C-bandand KU frequencies.
Amplifiers—ETL's amplifiers cover IF and L-band frequencies, with options including:

Gain blocks with flat frequency response
Gain blocks with positive frequency slopes
AGC and ALC amplifiers
Digitally controlled variable gain amplifiers


Passive RF Components—ETL's Passive RF Components feature:

Low loss L-band and IF bias TEEs
High current (up to 48V, 7A current ratings)
Attenuators, fixed and custom attenuations


Equalizers—ETL's 50 and 75 ohm positive slope equalisers compensate for inherent negative slope Gain vs. Frequency characteristics of L-band equipment and cable runs. These devices are designed to compensate negative slopes ranging from 1dB to 10dB and cover an L-band frequency range of 850 to 2150MHz.
Couplers—Proximity couplers and directional couplers will feature in ETL's range at IMS. The couplers can be used for RF monitoring over L-band frequency range of 850 to 2150MHz
Impedance Transformers—ETL's Active Impedance transformers feature unity gain (0dB gain) and cover an L-band frequency range of 850MHz to 2150MHz.
10MHz Oscillators—High stability 10 MHz ovenized oscillator with L-band and DC multiplexer. Switchable 10 MHz and DC External or inline powered options.

To find out more about ETL's new range of products, please visit http://www.etlsystems.com/categories/2-rf-components