Cobham SATCOM's IWCE 2017 booth Booth# 1335 will host a number of brand new technology developments including interoperability functionality with the MSAT satellite-based mobile telephony service on its eagerly awaited EXPLORER MSAT-G3 terminal, an innovative LTE modem for the EXPLORER 540 BGAN M2M terminal and the cutting-edge EXPLORER 8120 Auto-Acquire, Drive-Away VSAT Antenna System featuring unique stabilization technology.
The EXPLORER MSAT-G3 is an IP-based Push-To-Talk (PTT) communications system that uniquely supports Satellite/3G/LTE/LAN backhaul and Land Mobile Radio (LMR) integration to provide seamless voice communication in any situation. It is the only terminal compatible with the next generation hybrid Push-To-Talk MSAT-G3 service, which integrates Land Mobile Radio (LMR) networks, the Ligado Networks SkyTerra 1 satellite and ViaSat's low-latency, IP-based L-band Mobile Satellite Services network to deliver feature rich, high availability communications for US emergency response services and utilities sectors.
Cobham SATCOM has added a vital new feature to EXPLORER MSAT-G3; it is now interoperable with the de facto industry standard MSAT G2 service. With seamless interoperability between MSAT-G3 and MSAT G2, which is currently used by the majority of US police, ambulance and fire services in addition to many government and disaster response agencies, fleet owners can implement a more managed migration to the next generation service. This interoperability includes access on MSAT-G3 to established SMART Talk groups and standard call groups on the MSAT G2 service, ensuring that already configured networks with established call groups can be utilised on both systems.
Also in the spotlight on Cobham's IWCE 2017 booth is the brand-new EXPLORER 8120 VSAT terminal, which provides 'Comms-On-The-Pause' operation with high-speed connectivity and link stability for professional users from a wide range of industries including news & broadcasting, oil & gas and utilities management. The EXPLORER 8120 features the unique Dynamic Pointing Correction technology introduced on the EXPLORER 8100, giving users the opportunity to enjoy even more availability of service anywhere within the coverage area.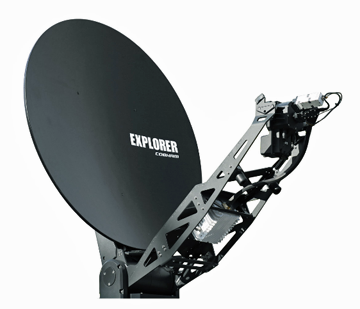 Unique to Cobham, Dynamic Pointing Correction enables the EXPLORER 8120 to maintain a strong link to the satellite should the vehicle move on its suspension due to people getting in and out, high winds, earth tremors, and percussive shock events such as the local use of heavy military ordinance, for example. EXPLORER 8120 features a 1.2 meter reflector which is particularly relevant for users in North America due to the increased gain and cross polarisation isolation performance when compared to the 1 meter EXPLORER 8100.
Additional IWCE 2017 highlights from Cobham include a powerful new LTE Modem for the EXPLORER 540 BGAN M2M, which enables dual-mode operation on cellular networks and satellite. EXPLORER 540 delivers real-time M2M communication for diverse applications including IP SCADA for data backhaul, asset tracking, real-time surveillance and remote telemetry. It brings with it the same operational reliability that has helped to establish EXPLORER as a leading brand within land mobile BGAN and VSAT satellite communication.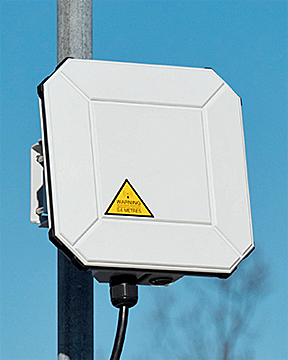 Dual-mode operation of the EXPLORER 540 BGAN M2M ensures high reliability even in harsh conditions, in addition to potential cost savings through the use of LTE/3G/2G networks when available. The system is easy to install and use. By simply connecting the LTE Modem on the back of the terminal, it is able to use a local cellular network as the primary data path, with automatic, seamless failover between BGAN and cellular networks. The LTE Modem is automotive graded and designed for harsh environments with an extended temperature range of -40 to +185°F, and it reaches throughputs of up to 150 Mbps with LTE Cat. 4.