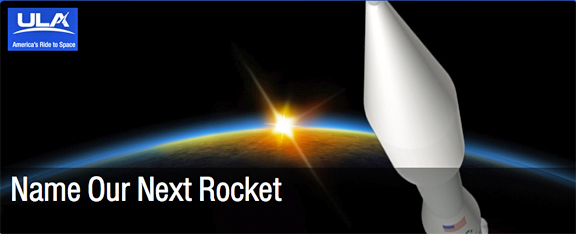 [SatNews]United Launch Alliance (ULA) is asking America to help name its next rocket, calling on citizens to play a role in the future of space launch by voting for the name of the new rocket that will be responsible for many of the nation's future space launches.
For the next two weeks, the public can vote for its favorite rocket name—Eagle, Freedom or GalaxyOne—with the results being announced on April 13 along with the design and components of ULA's innovative, next-generation rocket. The top three names were selected from more than 400 names submitted by ULA's 3,400 employees and space enthusiasts earlier this year. ULA employees—rocket scientists, engineers and patriots—will design and build this rocket with the first flight expected in 2019.
ULA has consistently delivered 100 percent mission success for 94 launches and is currently at a tempo of roughly one launch per month. ULA also has launched every GPS on orbit today, all 57 of them, as well as major space exploration missions for NASA such as the Mars rovers and Pluto/New Horizons.
"ULA's new rocket represents the future of space—innovative, affordable and reliable," said Tory Bruno, ULA's president and CEO. "More possibilities in space means more possibilities here on earth. This is such a critical time for space travel and exploration and we're excited to bring all of America with us on this journey into the future. Space launch affects everyone, every day, and our goal in letting America name its next rocket is to help all Americans imagine the future of endless possibilities created by affordable space launch."

In order to vote for America's next rocket, voters can visit the voting infosite from March 23 to April 6 at http://bit.ly/rocketvote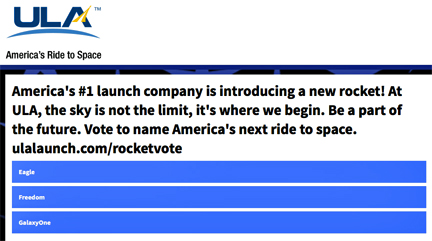 Voters can also text 22333 to submit a vote for their favorite name. The following key can be used to text a vote:
ULA1 for "Eagle"
ULA2 for "Freedom"
ULA3 for "GalaxyOne"
(Text and data rates may apply.)
ULA is headquartered in Centennial, Colorado, with launch facilities at Cape Canaveral Air Force Station in Florida and Vandenberg Air Force Base in California. ULA builds and manufactures its rockets in Decatur, Alabama and Harlingen, Texas.