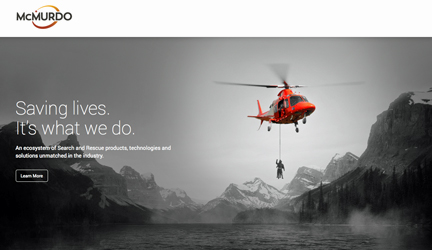 [SatNews] McMurdo Group, a leader in end-to-end search and rescue (SAR) and maritime domain awareness (MDA) solutions, has announced that it will host a webinar series on satellite-based Search and Rescue (SAR) featuring various industry experts to detail the latest SAR process and technology advancements.
The series, which will be available to a worldwide audience, will detail the steps and technologies available during a search and rescue scenario in an informative and educational setting.
The first McMurdo Group SAR webinar in the series will be:
"The 5 Critical Stages of the Search and Rescue Ecosystem"—Thursday, March 27, 2014, 11:00 a.m. EDT / 8:00 a.m. PDT / 3:00 p.m. GMT, and will feature...
Jeremy Harrison, President and General Manager, McMurdo Group and Lt. Bryan Cantfil, SAR Analyst, U.S. Coast Guard Office of Search and Rescue
This free presentation will review what happens when an emergency beacon is triggered and offer a glimpse into SAR product innovations and technological advancements on the horizon. Additional information and free registration are available at https://www.brighttalk.com/channel/1056
"The COSPAS-SARSAT system has helped save over 35,000 lives in the thirty years since its inception, yet most people don't really understand how the process works and what they can do to improve search and rescue efficiency," said Jeremy Harrison, President and Managing Director of McMurdo Group. "With decades in this industry, we've seen the impact on people's lives through the rescue stories shared with us by maritime, aviation and adventure enthusiasts. Now we want to make the information more accessible to encourage discussion that could lead to even greater advances for the benefit of the industry as a whole."
The second webinar in the McMurdo Group series will be:
"MEOSAR: Are You Ready for the Next Generation in Search & Rescue Satellite?"—Thursday, April, 24, 2014, 11:00 a.m. EDT / 8:00 a.m. PDT / 3:00 p.m. GMT, and will be...
Presented by experts in COSPAR SARSAT, this session will provide an overview of the next generation MEOSAR program that is expected to revolutionize COSPAS-SARSAT satellite-based SAR systems – proven systems which have helped to save 5 lives per day since 1982.
The third in the series will be:
"The Real World of Search and Rescue – Case Studies and Applications for Today and in the Future"—Thursday, May 29, 2014, 11:00 a.m. EDT / 8:00 a.m. PDT / 3:00 p.m. GMT
This webinar will present real-life rescue stories and actual use cases that demonstrate the innovative ways SAR applications are being applied to improve safety and save lives.
For the latest details on the series or to register, visit https://www.brighttalk.com/channel/10563.
For additional information about McMurdo Group and its comprehensive suite of SAR and MDA/AIS solutions, please visit http://www.mcmurdogroup.com.