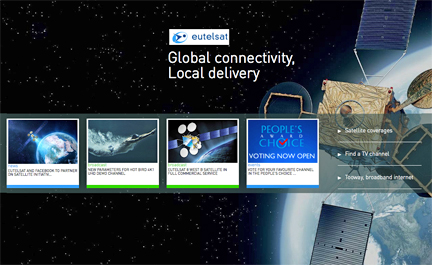 Addressing the needs of connected devices users in regard to content delivery by providers is the crux of a new partnership between Broadpeak and Eutelsat Communications (NYSE Euronext Paris: ETL) who will provide a satellite-based solution for multiscreen video delivery to those devices.
SmartBeam, Eutelsat's new service, is designed to enable broadcasters and payTV operators to leverage the ubiquitous coverage of satellites to broadcast video content in IP format, creating a network that is completely dedicated to IP-native terminals, including tablets and smartphones. SmartBeam works with any WiFi-enabled device, supporting instant channel change, DRM security, and low latency.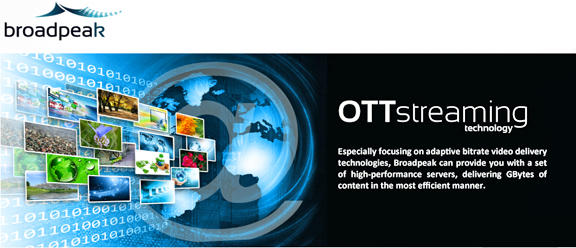 Broadpeak's nanoCDN™ product is the underlying streaming technology for SmartBeam and allows operators and content providers to contain their bandwidth requirements to only a few megabits per second in order to multicast high-quality OTT services to millions of simultaneous devices. By effectively managing video consumption peaks that are not supported by terrestrial network infrastructure, nanoCDN makes multiscreen satellite delivery scalable and affordable for content providers, including key live sporting events that create surges in consumption.
According to Jacques Dutronc, the Chief Development and Innovation Officer at Eutelsat, SmartBeam redefines how satellite can extend access to live and on-demand content on mobile devices, enabling an exceptional quality of experience for OTT customers located beyond range of terrestrial networks, In combining Eutelsat's skills with Broadpeak, TV broadcasters will be supported as they evolve into a multi-platform environment, starting with Tricolor TV, Russia's leading payTV operator that has selected SmartBeam for the first satellite network in Russia to deliver video content to mobile devices.
Jacques Le Mancq, the CEO at Broadpeak, added that combining nanoCDN technology with SmartBeam gives content providers and operators an opportunity to make a big splash in the OTT multiscreen environment, offering viewers a high quality of experience on connected devices, without making a significant investment in infrastructure.