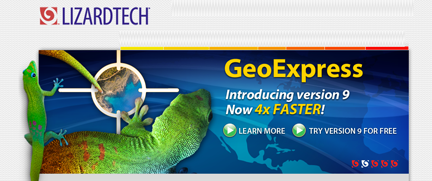 [SatNews] LizardTech®, a provider of software solutions for managing and distributing geospatial content, is exhibiting this week at the Esri Federal User Conference in Washington, D.C. in booth number 315.
In addition, the company is scheduled to present at the 8th US Government Geospatial PDF Working Group Meeting on February 13. The meeting will take place at the Mayflower Hotel also in Washington, D.C.
LizardTech will showcase its Express Server® 9 software, which just launched last week. Express Server is the leading image-delivery software for compressed raster imagery, including multispectral imagery. The latest version includes the ExpressZip web application for exporting imagery straight from the web browser as well as improved upgrade functionality. The upgrade functionality automates the process of migrating all image catalogs so that users don't need to manually update their catalogs when installing a new version of Express Server. Additionally, Express Server integrates with third party applications such as ArcGIS Server to speed up the delivery of raster imagery.
LizardTech will also showcase the rest of its product line. LizardTech's GeoExpress® software enables geospatial professionals to compress and manipulate satellite and aerial imagery, while LizardTech's LiDAR Compressor™ software turns giant point cloud datasets into efficient MrSID files.
On Thursday, February 13 at 10:45 a.m., LizardTech's sales manager, Ryan Burley, will give a presentation at the 8th US Government Geospatial PDF Working Group Meeting. The presentation will be held at the Mayflower Hotel, and is titled "Managing and Distributing Massive Geospatial PDF Data Sets."
For more information about LizardTech's geospatial software products, visit http://www.lizardtech.com/.
A free trial download of LizardTech's software products is available at this direct link.