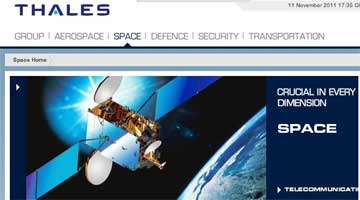 [SatNews] Looks like Middle Earth Orbit is going to be one busy place.
Thales Alenia Space announced today that it had signed a contract with O3b Networks Limited to deliver four more satellites for their Medium Earth Orbit constellation.
These satellites are
in addition to the eight already ordered from Thales Alenia Space
. The first group of eight satellites successfully passed their Critical Design Review in May of this year and the system is on track for an initial launch in the first quarter of 2013, with service expected to start in the second quarter of that year.
Positioned at an altitude of 8,000 km which is four times closer to the earth than geo-stationary satellites, these Ka-band satellites will offer high speed, low cost, low-latency Internet and telecommunications services to people and businesses in emerging markets.
O3b Networks will supply trunking and mobile backhaul connectivity to telecom operators at speeds comparable to those offered by Fiber providers. By increasing the constellation from eight to twelve satellites, O3b Networks will virtually double its capacity and guarantee greater service availability and reliability.
"This latest contract for four additional satellites clearly shows Thales Alenia Space's leadership in telecom constellations," said
Reynald Seznec
,
President and CEO of Thales Alenia Space.
"
O3b can count on this platform, already proven in orbit. Our platform is perfectly suited to telecom constellations, with excellent in-orbit performance and guaranteed development
. We are honoured to have O3b's confidence in Thales Alenia Space and we are eager to contribute to their mission which will be enhanced through the delivery of these four additional satellites"
"We are very happy with Thales' progress with the O3b satellites so far and we are firmly on schedule to meet our launch dates on the first eight satellites," said
Brian Holz
,
CTO of O3b Networks
. "The Payload and Spacecraft Critical Design Reviews were successfully completed earlier this year with higher than expected performance, allowing O3b to further improve competitiveness. We therefore have every confidence in awarding them with the contract for our four additional satellites."