[SatNews] The Indian Space Research Organisation plans to set up an advanced R&D center in the field of spacecraft technologies in Karnataka's Chitradurga and rocket sub-systems integration facility near the spaceport of Sriharikota in coastal Andhra Pradesh.
ISRO Chairman
K Radhakrishnan
said the space agency has acquired 530 acres of land in the science city in Chitradurga, where
Indian Institute of Science Bangalore
,
Bhabha Atomic Research Centre and Defence Research and Development Organisation
are also building their facilities. "We are developing it (land in the science city) for advanced research and development centre in the area of spacecraft technologies," he told a press conference here.
ISRO Satellite Centre Director
T. K. Alex
said that with annual production of satellites on the rise at ISRO, the space agency finds that the Bangalore centre is not sufficient. ISRO wants to add new research and production capacities in Chitradurga campus which would be used for its activities in the area of advanced communication and remote sensing. Radhakrishnan said
ISRO
,
IISc
,
BARC
and
DRDO
have decided to set up common facilities such as hospitals, schools and colleges in Chitradurga science city. He also said ISRO plans to set up near Sriharikota facilities for integration of sub-systems of rockets, currently being done by industries in different parts of the country.
Radhakrishnan said the idea is to bring sub-systems integration activities by industries and ISRO closer to the launch site at Sriharikota. Discussions are on with the Andhra Pradesh government as well as with industries to set up these proposed facilities on 250-300 acres of land near Sriharikota, he added. He said the idea is to take up integration activities closer to the launch site in a controlled quality environment which would result in "better reliability" and cut down on wastage of time and risks involved in bringing such systems from different parts of the country.
Radhakrishnan said ISRO is setting up a multi-mission ground segment for Earth observation satellites at Shadnagar near Hyderabad. He added that a national data base for emergency management for the country is also coming up there. A hypersonic wind-tunnel facility is in final stage of commissioning at
Vikram Sarabhai Space Centre
in Thiruvananthapuram, he said.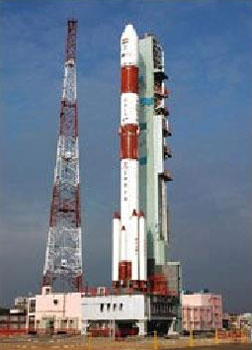 Additionally, the ISRO is lining up three PSLV launches from Sriharikota spaceport by October this year, said Radhakrishnan last Friday.
He said
PSLV-C17
would launch
GSAT-12
, equipped with 12 extended C-band transponders, in July.
PSLV-C18
and
PSLV-C19
would launch
Megha-tropiques
, an Indo-French joint mission, and microwave remote-sensing satellite,
RISAT-1
, with synthetic aperture radar during September-October this year.
ISRO officials said India's GSAT-8 satellite is scheduled to be launched by European space consortium
Arianespace
's
Ariane-5
rocket at 0207 hours (IST) on May 20th from French Guiana. Radhakrishnan said GSAT-8, one of the heaviest satellites built by ISRO, weighs 3100 kg at lift-off and is equipped with 24 Ku-band transponders which would augment direct-to-home services.
Meanwhile, ISRO officials said the
Failure Analysis Committee
, headed by former ISRO Chairman
G Madhavan Nair
, set up by ISRO following the failure of the
GSLV-F06
mission, and the
Program Review and Strategy Committee
, chaired by
K. Kasturirangan
, to look into the future of the GSLV programme, have submitted their reports. Reports of these committees are currently being reviewed by eminent national experts.
Radhakrishnan
said the Space Commission at its meeting scheduled on May 24 would look at the reviews. He refused to give a time-line for India's ambitious human space flight program, saying, "Now, with the state of GSLV (proposed to be used for this mission), first priority is to make the GSLV a reliable vehicle". The GSLV-F06, with GSAT-5P on board, failed on December 25 last year in a set-back to ISRO. Regarding the controversial
Antrix-Devas
deal (Antrix is the commercial arm of ISRO)
Radhakrishnan
reiterated that the Government has annulled the contract.
(Source:
Press Trust of India
)