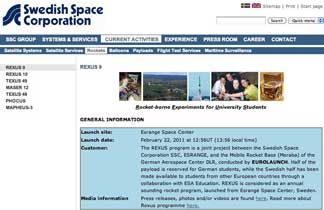 [SatNews] Today at 12:50 local time the student rocket REXUS 9 took aloft from Esrange Space Center in the northern part of Sweden.
The rocket, with its four experiments,
reached an altitude of 80.6 km and landed after 11 minutes flight 40 km north of Esrange
. The recovery is ongoing and the payload will be back at the base for analysis within an hour.
The
four experiments on board were testing new technical systems developed and built by students from universities all over Europe.
"The past week has been extremely intensive and very interesting, says
Robert Wuseni
from the
REMOS team
.
From the data we received during the flight, it seems that our experiment behaved as predicted.
This past year has been fantastic and will mean a lot for our coming careers", Mr. Wuseni wraps up.
REXUS 10 planned to be launched on Wednesday 23 February The next student rocket, REXUS 10, is planned to be launched tomorrow at 10:00 local time.
On board there are
four additional experiments.
One of the student teams involved is Swedish and they study at the Royal Institute of Technology in Stockholm.
"To be part of a space project already during the student phase is invaluable", says Gustav Casselbrant, one of the students from the SQUID team. "We have learned how a real space project is driven from start to finish and in addition we have built up an international network of fellow students from all over Europe", Mr. Casselbrant concludes.