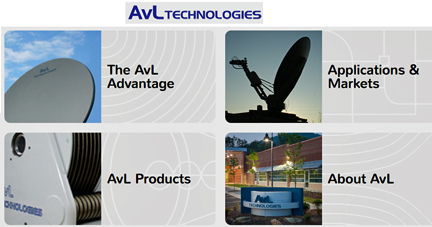 Recently, AvL Technologies completed and then opened their new AvL Technology Park facility and the firm is now announcing a new line of products... fixed Earth station antennas.
Now in production, these new antennas feature reflector sizes from 85 centimeters to 3.4 meters. Also in production is a medium class family of Earth station antennas that feature reflector sizes of 3.8, 4.6 and 5.0 meters. Additional medium class sizes up to 9.0 meters will soon be in production. Featuring offset antenna designs are the 85 centimeter to 3.8 meter and 5.0 meter products. The 4.6 meter and most larger antennas are axi-symmetrical.
All AvL fixed Earth stations operate with a steel azimuth slew ring positioning system and the AvL AAQ Auto-Acquire Antenna Control System. The fixed Earth stations also will operate with AvL's Ku-, Ka- and X-band feeds, and antennas with 2.0 meter and larger reflectors can use AvL's C-band feed. Additionally, the 5.0 meter antenna is a unique design with a motorized multi-band feed system that can hold up to seven feeds.
According to Mike Proffitt, the president of AvL, the company's expansion has been underway for some time and their new facility will allow the firm to have ample room to house the larger tools necessary for manufacturing larger reflectors. The company's current Earth station business produces antennas in the same sizes for AvL's vehicle-mount and flyaway product families, as well, and there will be an expansion into larger fixed Earth stations in the near future.