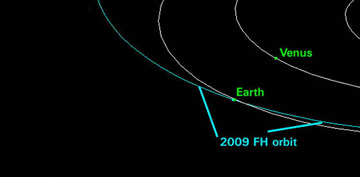 A small asteroid will fly past Earth on Wednesday, March 18th.
The asteroid,
2009 FH
, is about 50 feet (15 meters) wide. Its closest approach to Earth will occur at 5:17 a.m. PDT (8:17 a.m. EDT, 12:17 UTC) at an altitude of about 49,000 miles (79,000 kilometers). "This asteroid flyby will be a good viewing opportunity for both professional and amateur astronomers," said
Don Yeomans
of the
Near-Earth Object Office
at NASA's
Jet Propulsion Laboratory
in Pasadena, California. "The asteroid poses no risk of impact to Earth now or for the foreseeable future." NASA detects and tracks asteroids and comets passing close to Earth. The Near Earth Object Observation Program, commonly called "
Spaceguard
," plots the orbits of these objects to determine if any could be potentially hazardous to our planet.