On May 5, NASA Jet Propulsion Laboratory's (JPL) InSight Lander lifted off from the Vandenberg Air Force Base on an interplanetary voyage from California to the Red Planet.
Equipped with a state-of-the-art robotic arm built at SSL Robotics in Pasadena, California, previously known as MDA US Systems, InSight is expected to touch down on Mars in November. This Discovery-class mission underscores SSL's long legacy as a trusted contractor to NASA, having provided five robotic arms for Mars landers and rovers. For those of you who aren't counting, that's every robotic arm on the Martian surface!
Advanced robotics systems, like the ones we build at the robotics center of excellence, are essential to the next generation of space infrastructure and exploration. Robotics will play a key role in supporting space exploration to distant planets and the new generation of commercial space missions by building out habitats and outposts that support human life well before people arrive. SSL is actively involved in studies of the technologies that will contribute to this new infrastructure in space such as the Lunar Gateway and the planned commercial outpost called Independence-1.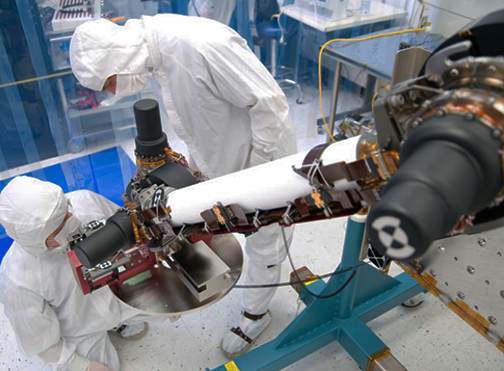 As part of Maxar Technologies, SSL is dedicated to accelerating innovation for the new space economy. Through robotics systems on Mars, and collaboration with other Maxar business units, such as MDA in Canada, we are solving problems from space that elevate humankind's understanding of the universe and, ultimately, building a better world.
SSL's dexterous robotic arms have the flexibility to extend, bend, and angle precisely against rocky surfaces to work as a human geologist would: grinding away layers, taking microscopic images, and analyzing the elemental composition of rocks and soil. These systems have played critical roles on the Curiosity, Spirit and Opportunity Mars rovers, as well as the Phoenix Mars lander.
42InSight, which stands for Interior Exploration using Seismic Investigations, Geodesy and Heat Transport, will collect seismic, rotational, and thermal measurements to explore the interior of Mars. Data of this sort is critical to understanding the processes that formed the rocky planets of the inner solar system approximately 4.5 billion years ago. The robotic arm will use its five nimble fingers to remotely grasp the lander's instruments and carefully place each piece of hardware onto the Martian surface. The arm is measured at approximately 7.8 feet long, has shoulder, elbow and wrist joints, and four motors.

The lander's sensitive instruments include a seismometer capable of detecting marsquakes and a heat flow probe that will burrow as deep as 16 feet into the ground. The goal of the InSight Lander mission is to determine the present level of tectonic activity on Mars and to learn about the evolution of similarly formed planets.
Executive Comment
According to Lucy Condakchian, the General Manager at SSL Robotics, today's focus on space exploration, and bringing commercial capabilities to the U.S. Government, are driving innovation and excitement at SSL and at Maxar. The company is delighted to deliver this fifth robotic arm to Mars and look forward to ongoing contributions to the kind of exploration and scientific research that will redefine the standard for space-related pursuits.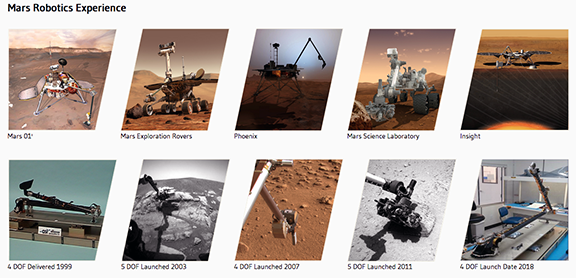 For more information about the InSight mission, visit mars.nasa.gov/insight/.
Story authored by Lucy Condakchian, General Manager, SSL Robotics