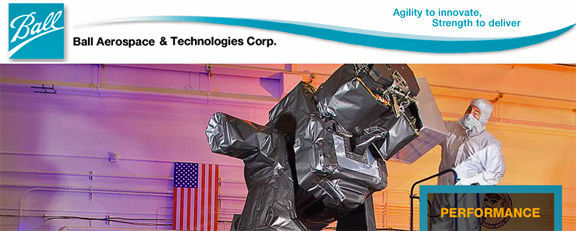 [SatNews] Ball Aerospace & Technologies Corp. is highlighting 25 years of revolutionary science delivered by the Ball-built instruments on the Hubble Space Telescope at the 31st Annual Space Symposium, April 13-16, at the Broadmoor Hotel in Colorado Springs, Colorado, at booth #403.
Hubble launched on April 24, 1990, with one science instrument built by Ball Aerospace. Today, all five of Hubble's optical instruments are Ball-built. For the 31st Symposium, Ball is the sponsor of the Exhibit Pavilion, where the world's latest space technologies, products and services will be showcased.
Ball Aerospace leaders will also participate in several Symposium panel discussions:
Steve Smith, Director of Programs, Systems Engineering Solutions: "Industry Perspectives and Solutions," Cyber 1.5 Classified, Monday, April 13, 10:35 a.m., at the Scitor Conference Center
Dave Kaufman, V.P., General Manager, National Defense: "Acquisition Initiatives – Tailoring to Maintain Space Superiority," Space Classified, Wednesday, April 14, 10:30 a.m., at the Scitor Conference Center
Debra Facktor Lepore, V.P., General Manager, Strategic Operations: "Next Generation Space Leaders: Making Your Way to the Top," Wednesday, April 14, 2:00 p.m., West Ballroom
Ball has a decades-long history of designing and building instruments that enable breakthrough science discoveries give warfighters a tactical advantage and save lives with advanced weather forecasting technologies.