Sea Tel Cobham has released their DTV04 HD Antenna System, the first and only 3-Axis Marine Stabilized Antenna System that is compatible with DIRECTV's® Ka-Band satellites.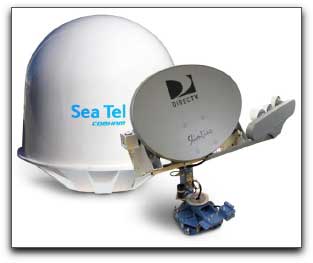 The
DTV04 HD
is also the only
Marine Stabilized Antenna System
that can deliver three Ku-band satellites (101W, 110W, and 119W) and 2 Ka-band satellites (99W and 103W) simultaneously with one antenna system. To receive all five satellites simultaneously, the antenna and feed assembly are required to be skewed to a specific angle for the customer's operating area. The DTV04 HD features an
Auto Skew
function that adjusts the skew angle automatically, which enables the system to move seamlessly from region to region without having to manually adjust the skew angle on the antenna and feed assembly. The design of the DTV04 HD Antenna System negates the need for an additional Ka-band antenna. Another value added feature is that this system gives customers the ability to watch any authorized
DIRECTV
channel at any time on any satellite receiver, eliminating the need for a master receiver. This is the first and only system in the marine market that has this capability. The DTV04 HD Antenna System is compatible with DIRECTV® service in the United States only and requires an
H20
or
H21
receiver to receive HD programming from the Ka-Band satellites. The DTV04 HD comes in a 50-inch Radome assembly.