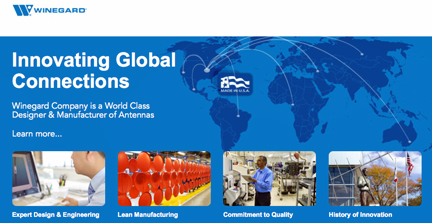 [SatNews] Winegard, in a joint venture partnership with DTS (Data Technology Solutions), has introduced a new WiMAX auto acquisition mount that sits atop oil and gas drilling rigs to eliminate the need for technicians to manually peak the WiMAX antenna to the network—this is an enhancement to fixed mount options.
The antenna mounting system is being introduced at the Satellite 2014 Conference & Exhibition, March 10 – 13, held at the Walter E Washington Convention Center, Washington, D.C., in Winegard booth #4061. Benefits of the new design to drilling companies include eliminating delays associated with dispatching a technician to physically access the crown of the rig, technician safety issues and the accommodation for rigs that skid onsite to drill multiple wells from a single pad.
Software developed for the unit allows the antenna to automatically aim the unit at the main beam on the WiMAX network and peak itself to gain the highest link quality. If the rig is moved, the unit also will automatically reestablish the link. The same software allows the operator or technician to access the unit remotely to peak the system signal. Winegard VSAT systems reseller partner DTS worked closely with Winegard hardware and software engineers to create the new auto acquisition unit to reduce costs, enhance safety and simplify drilling operations for its oil and gas exploration customers around the world.
The mount, which is compatible with Ubiquiti™ Networks reflectors and is customizable for other reflectors, is highly suitable for mobile and remote oil and gas operations. Unlike fixed mount options, the enhanced WM1000 greatly reduces downtime in critical communications/data during situations when the reflector position changes making it unable to maintain signal. This mount provides unsurpassed efficiency, higher throughput over longer distances, simplicity and reliability for end users. Weighing in at just 29 pounds, the WM1000 mount is designed to handle large payloads. A standard 19 inch 2U rack mount controller is included with the mount. Additional applications for the U.S. Patent Pending WM1000 mount include news gathering and broadcast, emergency response management and public safety.
For more information, please visit the Winegard infosite at http://www.winegard.com/