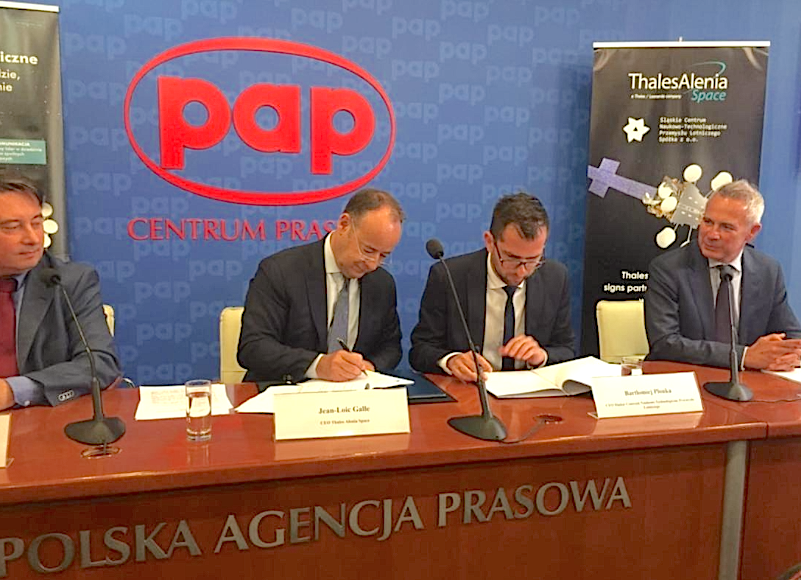 A partnership agreement was signed between Thales Alenia Space (JV Thales 67 percent and Leonardo 33 percent) together with their sister agency, Thales Alenia Space in Poland, and SCNTPL (Slaskie Centrum Naukowo – Technologiczne Przemyslu Lotniczego Sp. z o.o.), the Silesian Science and Technology Center of Aviation Industry Ltd., based in Czechowice-Dziedzice, Poland, which specializes in composite materials. This agreement is the result of a partnership that began several years ago when the companies worked together, and they were reinforced by the creation of Thales Alenia Space in Poland in 2015.
The agreement signed also confirms a new joint initiative by SCNTPL and Thales Alenia Space, which focuses on both Research and Development and the production of satellite structures, and anchored in transfers of composite technologies. Based on this agreement, Thales Alenia Space has placed an initial order with SCNTPL, to provide structural panels for its Spacebus NEO platform.
Jean Loïc Galle, Chief Executive Officer of Thales Alenia Space said with this agreement, Thales Alenia Space shows its sustained commitment to becoming a major partner in the Polish space industry, by calling on the large pool of skills in the country and proposing even broader partnership initiatives, focused not only on government requirements, but also the commercial market. He continued, saying this agreement confirms SCNTPL's role in building sophisticated satellite structures to meet the needs of both the domestic and international markets.
Bartlomiej Plonka, President of the Management Board of SCNTPL, added, that the agreement signed today reflects their efforts over the last few years to develop materials processes and facilities with the support of both national and European institutions. They are very proud to have been chosen as a partner by Thales Alenia Space, and to work as a team to enhance the competitiveness of satellite solutions. It also allows to foster involvement of Poland on key ESA programs in the domain of spacecraft structures.