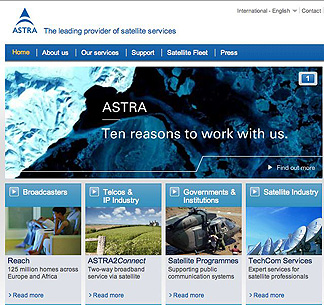 [SatBroadcasting™] SES ASTRA, an SES company (Euronext Paris and Luxembourg Stock Exchange: SESG), is heading further into the European market...
SES ASTRA announced today a further expansion into central and eastern Europe, and its entry into a new growth market, Bulgaria. The Bulgarian Direct-to-Home (DTH) operator Satellite BG will use three transponders at SES ASTRA's 23.5 degrees East orbital position for broadcasting its channel portfolio to TV homes across Bulgaria.
Satellite BG will launch its channel bouquet on 1 February 2011
. The offer will consist of
more than 70 channels including High Definition (HD) channels and all major public and commercial channels in Bulgaria
. TV viewers wishing to receive Satellite BG will need a satellite dish pointed to 23.5 degrees East and a satellite receiver with a suitable smartcard and subscription.
23.5 degrees East is SES ASTRA's fast-growing orbital position for central and eastern Europe and the Benelux countries
. In addition, CS Link and Skylink are using 23.5 degrees East for Direct-to-Home satellite services in the Czech and Slovak Republics. Other customers on 23.5 degrees East include
Canal Digitaal and TV Vlaanderen in the Benelux and pan-European operators Viacom, Turner, Discovery and Bloomberg.
With a dedicated Duo-LNB, TV viewers can receive from SES ASTRA's 23.5 and 19.2 degrees East orbital positions and benefit from the free-to-air channel offer from Europe's prime orbital position 19.2 degrees East.
Norbert Hölzle
,
Chief Commercial Officer of SES ASTRA,
said: "This agreement is our entry into the Bulgarian market. Satellite BG is an important new customer who will help us to open up the Bulgarian market for our products and services. This agreement demonstrates that ASTRA's 23.5 degrees East orbital position is one of the most attractive hot spots for the whole region, enabling us to further extend our reach and develop our offer."
Stefan Bonev
,
Chief Operating Officer of Satellite BG
, said: "We are very pleased to have entered into this strategic partnership with SES ASTRA. Satellite BG is a new Direct-to-Home operator with the aim of establishing itself as market leader in HD and 3D television in Bulgaria. We have
chosen to work with SES ASTRA due to its technical experience and the fast development and optimal coverage of its 23.5 degrees East orbital position.
"