Thuraya Telecommunications Company has announced an agreement with Dubai-based marine solutions provider, Elcome International, to offer technical support to Thuraya's service partners throughout the GCC (Gulf Cooperation Council) and Egypt.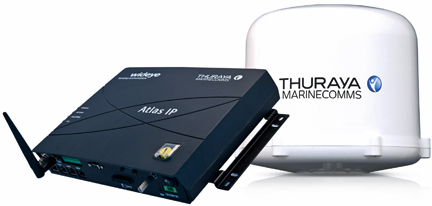 The new contract will ensure faster response times to requests made by service partners needing maintenance work, fault rectifications and the installation of Thuraya maritime equipment. This agreement comes after Thuraya's recent expansion of their maritime portfolio with the launch of the Atlas IP, which is an easy to install terminal which offers managers and crew seamless access to the Internet, enhanced connectivity and high-speed onboard efficiency with best-in-class data rates.

At agreed rates, Thuraya's service partners will have the benefit of being able to call on Elcome's fully-trained engineers to avoid extensive downtime in the event of equipment problems. As Thuraya's maritime business continues to experience substantial growth, this convenient maintenance and service contract comes into effect following an increase in regional customers signing up with the leading mobile satellite services operator.
According to Keith Murray, Product Manager, Maritime, Thuraya, the company's maintenance partner will store spare Thuraya equipment for vessels in locations that are difficult for their partners to otherwise reach, which means that, in the long-run, this new agreement will save Thuraya partners time and money."