Thuraya Telecommunications Company and service partner, Cygnus Telecom, are exhibiting at booth 628, Hall 6, at ADIPEC expo in Abu Dhabi, where they are showcasing the satellite communication portfolio for the oil and gas sector.
Abu Dhabi International Petroleum Exhibition and Conference (ADIPEC) is one of the largest and most renowned events for the oil and gas industry. This year, the event will be in session until November 16th and will host more than 2,000 exhibiting companies from 135 countries and attract more than 100,000 international trade professionals.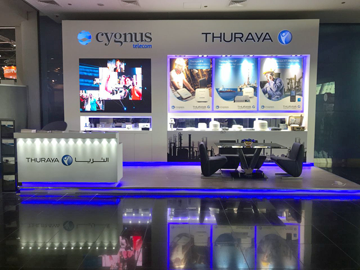 Many Thuraya offerings integrate with and are specialized for rough-terrain vehicles and oil and gas vessels. Additionally, Thuraya's range of XT satellite handsets are easy-to-use and serve as vital communication tools for remote personnel stationed near pipelines, at rigs or in other regions lying outside the range of terrestrial networks.
Rashid Baba, Thuraya's A/Chief commercial Officer, said, that there's no better opportunity to meet with top delegates from the oil, gas, and energy sector and Thuraya looks forward to gaining new industry insight and perspectives as well as discussing the firm's latest offerings and presenting how the company's satellite communication devices are ideal for remote worker needs, Comms-On-The-Move (COTM), and offshore connectivity.