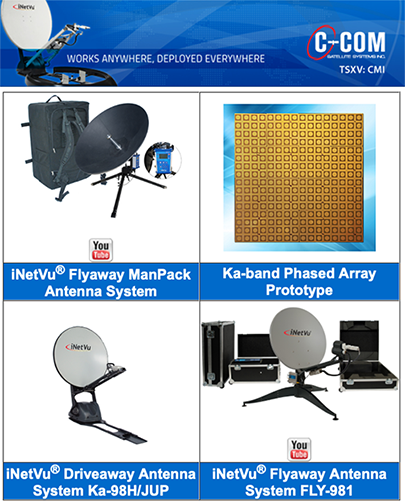 Visit C-COM's Booth # 1609 at SATELLITE 2019 to see the latest in auto-pointing antenna technology and to obtain a sneak peak at the company's phased array prototype antenna.
Highlighting the latest in C-COM design is the iNetVu® MP-100-MOT, a fully motorized, auto-acquire, 1 meter carbon fiber manpack antenna. This robust and lightweight (~20 kg.) system will point to any programmed satellite with just the push of a button on the NEW iNetVu® 8020 Controller. C-COM's highly portable, multi-segment manpack can be hand-carried by one person and assembled in less than 10 minutes with no tools required.
C-COM will also show the latest in Driveaway and Flyaway technology. The iNetVu® Ka-98H/JUP is the company's New Generation 98 cm, auto-deploy, vehicle-mounted Driveaway antenna that has been "approved for operation on Hughes JUPITER System" and is convertible from Ka- to Ku-band. The iNetVu® FLY-981, the company's transportable 98 cm Ku-band Flyaway, will also be on display. Both systems are fully automatic and configurable with the iNetVu® 7710 Controller to provide fast satellite acquisition within minutes, anytime anywhere.
Also on display will be the 1000 element prototype (32 x 32), based on C-COM's patent-pending, phase shifter technology. The technology has been developed in partnership with the University of Waterloo at its Centre for Intelligent Antenna and Radio Systems (CIARS) under the guidance of Dr. Safieddin (Ali) Safavi-Naeini, director of (CIARS).
This new phased array/phase shifting technology should have a significant impact on the satellite antenna business by making it possible to deploy low cost, low weight, low profile Ka-band antenna systems for fixed and mobile satellite broadband communication applications. The antenna is designed to be modular, conformal and have the ability to electronically track two satellites simultaneously (LEO,GEO or MEO). It will be ideally suited for delivery of high-speed broadband communications into vehicles, (connected cars), boats, ships, trains, buses and aircraft at reasonable prices and with a reduced form factor.
This new Ka-band antenna technology will also be adaptable for deployment in telecommunications for the next generation 5G mobile applications as well as for millimeter-wave automotive radar.
C-COM's mobile auto-pointing terminals are indispensable for applications requiring reliable and/or remote connectivity in a rugged environment. More than 8,000 antenna systems have been deployed globally in industries such as Oil & Gas Exploration, Military Communications, Disaster Management, SNG, Emergency Communications Backup, Cellular Backhaul, Mobile Banking, Telemedicine and many others. C-COM is the commercial grade market leader in the auto-pointing mobile antenna business.