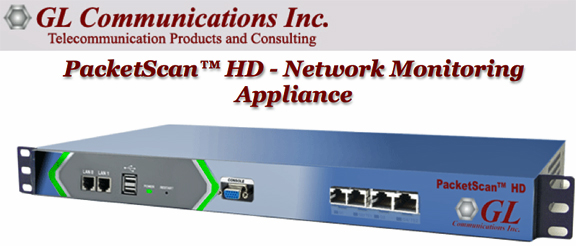 [SatNews]
GL Communications Inc
. has debuted their High-Density IP Traffic Analyzer—PacketScan™ HD (High Density).
The PacketScan™ HD can act as a probe to monitor the network and send Call Detail Records (CDR) to a centralized database server. GL's NetSurveyorWeb™ can retrieve data from the database server and act as Central Monitoring System. The PacketScan™ HD appliance has the ability to capture and analyze calls in real-time and it can be used for traffic analysis of Digits, Tones, Voice, Video, and Fax.
The Packet Data Analysis (PDA) module within PacketScan™ HD provides in-depth real-time and post-process data investigation. Its Quality of Service parameters include E-model (G.107) based MOS/R-Factor scores, Packet Loss, Delay, and Jitter for voice calls. Media Delivery Index is also available for Video. It has complex filtering and search capabilities to record all or filtered traffic into a trace file and almost all industry standard codecs are supported. Also provided are Audio Capture and Playback, and Fax Call Capture and Decode (extracting fax images in TIFF format). The Triggers and Actions feature of the application allows filtering calls based on call parameters and perform different actions (save call, record audio etc) on the saved calls."
Mr. Jagdish Vadalia, a Senior Manager for product development, said, "PacketScan™ is GL's standard framework for monitoring IP traffic. The HD version is a special purpose 1U hardware platform capable of detailed monitoring of high volume IP traffic (thousands of simultaneous calls). Almost all VoIP and Wireless protocols such as SIP, MGCP, MEGACO, H.323, Skinny, LTE, Diameter, UMTS, GSM, and GPRS carried over SCTP transport layer (Link) can be captured, decoded, filtered, and analyzed."
He add, "The PacketScan™ HD supports simultaneous capture and processing of up to 5,000 calls with duplex traffic at 1 Gbps rate (per appliance) and using a stack of multiple servers, a larger test system with more calls is achievable for enterprise to carrier grade testing.