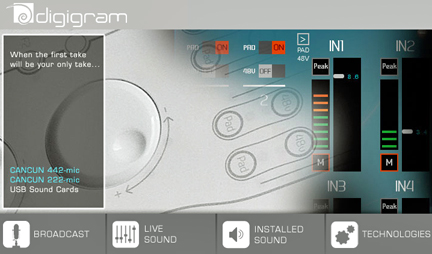 [SatNews] At IBC2014, Digigram will demonstrate the enhanced encoding capabilities of their AQILIM *SERV/FIT IP video codec, including the ability to encode multiple streams at multiple resolutions simultaneously.
With this single solution, users can quickly, easily, and cost-effectively publish content in multiple containers to multiple content delivery networks (CDNs) at once. In addition to increasing encoding density and reducing the cost per output stream, the AQILIM *SERV/FIT streamlines provisioning of content to a variety of display devices—computers, smartphones, tablets, and connected TVs—via OTT services. To ensure reliable distribution of video to each of these target devices, Digigram has also incorporated Octoshape's Infinite HD technology into the newly enhanced AQILIM IP video codec in addition to existing MPEG-TS, HLS, and RTMP streaming protocols.
Digigram's close relationship with popular CDNs assures that the company's products maintain compatibility with those distribution outlets. By choosing to work with the AQILIM codec, broadcasters and telcos can ensure ongoing compatibility with major CDNs, including Limelight, Level3, Akamai, Octoshape, Dailymotion, Arkena, Infomaniak, and Flumotion.
"Due to the high volume of content they process and distribute, large broadcasters and telecom operators require high-density encoding capabilities, and the AQILIM *SERV/FIT IP video codec meets this demand," said Laurent Gros, video product manager at Digigram. "We've made a major upgrade that equips this AQILIM codec with a multiple-container output feature, in turn enabling users to output more streams in a greater variety of resolutions and streaming protocols. This capability improves operational efficiency as well as simplifies and streamlines delivery of content to consumers on virtually any type of screen."
The AQILIM *SERV/FIT IP video codec will be on display at Digigram's IBC2014 stand 8.C51, and will be available for shipping immediately following the exhibition.
More information about Digigram and the company's products is available at http://www.digigram.com/