Building and launching rockets, having a crack at astronaut-training simulators and space shuttle sims... not exactly a boring summer camp, is it... the Northrop Grumman Foundation has once again sponsored scholarships for middle school students and teachers from across the United States, the United Kingdom and Australia to attend Space Camp®, July 24 to 29, at the U.S. Space and Rocket Center® (USSRC) in Huntsville, Alabama—this is the eighth year that the Northrop Grumman Foundation has funded Space Camp® scholarships.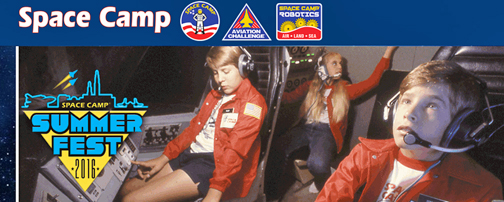 Science teachers will attend the Space Academy for Educators®, a program designed to provide teachers the tools to enhance how they use STEM concepts in their classrooms. This year Northrop Grumman and the Northrop Grumman Foundation sponsored 80 students and 48 teachers. The sponsorship is part of the Northrop Grumman Foundation's K-12 Initiative, which aims to advance excellence in STEM education by encouraging and supporting students and teachers from elementary school through high school.
The USSRC Space Camp® is the premier provider of authentic, inspiring and entertaining educational experiences in space science and aviation. The Space Academy for Educators® amplifies that mission by using the excitement of the program to create an immersive learning environment where teachers learn new ways to present concepts in their classrooms effectively. Additional information about this year's Space Camp® can be found at http://www.spacecamp.com/.
Northrop Grumman and the Northrop Grumman Foundation are committed to expanding and enhancing the pipeline of diverse, talented STEM students globally. They provide funding to sustainable STEM programs that span from preschool to high school and through collegiate levels, with a major emphasis on middle school students and teachers. In 2015, Northrop Grumman and the Northrop Grumman Foundation continued outreach efforts by contributing more than $17 million to diverse STEM-related groups such as the Air Force Association (CyberPatriot), Conservation International (ECO Classroom), the REC Foundation (VEX Robotics), National Science Teachers Association, and the National Action Council for Minorities in Engineering. For more information, please visit www.northropgrumman.com/foundation.
Sandra Evers-Manly, president, Northrop Grumman Foundation, relayed that Space Camp is a launching pad for innovators and pioneers and a fantastic experience for students who want to explore the wonders of space and for teachers who want to expand their science, technology, engineering and mathematics (STEM) tools.