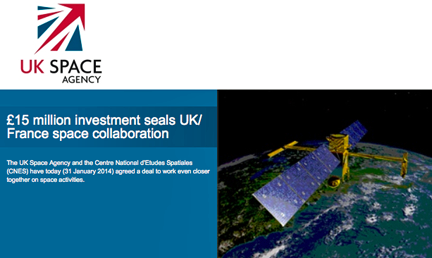 [SatNews] The UK Space Agency and the Centre National d'Etudes Spatiales (CNES) have agreed a to work even closer together on space activities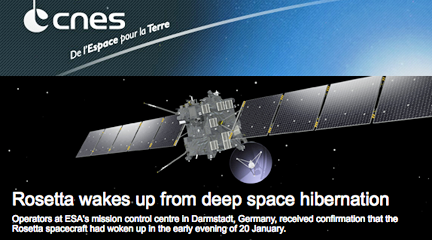 The agreement includes £15 million of UK investment in key instruments for the next generation of European weather satellites and will enable UK scientists to conduct the most comprehensive global survey of Earth's surface water. The agreement paved the way for joint work on Earth observation, telecommunications, space weather and research and technologies in the space field, and was witnessed by the Prime Minister and President Hollande at the UK-France Summit at RAF Brize Norton in Oxfordshire.
Speaking at the Summit plenary at Brize Norton, Minister for Universities and Science, David Willetts said, "Today is a major milestone in the future of British and French collaboration in space. This initial investment of £15 million will develop two major areas of Earth observation technology. These projects will have huge scientific and economic benefits, providing detailed weather forecasting and water management across the world. Collaboration in telecommunications, space weather, greenhouse gas monitoring and space technology will strengthen the links between our countries. Space is one of the eight great technologies and our cooperation will shape the future of European space projects, keeping us at the front of the pack in the global race."
Dr. David Parker, Chief Executive of the UK Space Agency, and Jean-Yves Le Gall, President of the Centre National d'Études Spatiales (CNES), signed the agreement which recognizes the role of space infrastructure in delivering the services of the future. The UK Space Agency and CNES have already identified projects where collaboration will be mutually beneficial, including telecommunications, navigation and weather forecasting.

Projects for immediate collaboration include an instrument for EUMETSAT, the next generation of European weather satellites, and the CNES/NASA project on global fresh water distribution. The UK Space Agency-CNES agreement will strengthen the long-term relationship between the two agencies and build their contribution to space activities carried out through the European Space Agency (ESA), the European Union (EU) and other international organizations.
The UK Space Agency infosite is accessible via this direct link.
For additional information regarding CNES, please select this direct link.