At NAB 2010, booth #SU7213, Harmonic Inc. (NASDAQ: HLIT) will feature a 3D television demonstration in conjunction with DIRECTV and Panasonic.
Harmonic's
Electra
® encoders, capable of supporting frame-compatible 3D video, serve as the compression engine for the
DIRECTV 3D
video experience, viewable on a Panasonic
VIERA
Full HD 3D TV set.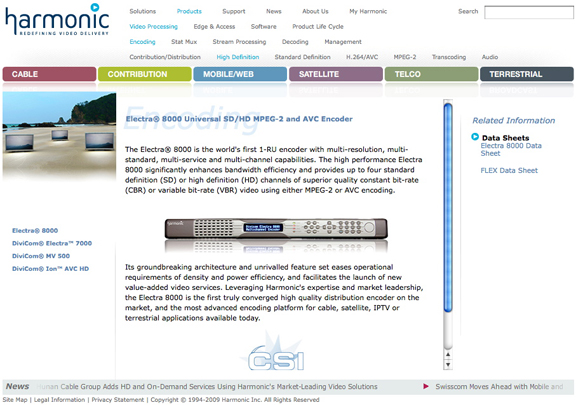 DIRECTV, in partnership with Panasonic, is the first and only service provider to announce it will provide dedicated 3D channels to its customers, beginning in June 2010. Millions of DIRECTV HD customers will receive a free software upgrade to view, initially, three dedicated 3D channels and ESPN 3D on their 3D television sets. Last month, Panasonic launched its VIERA 3D televisions in stores and quickly sold out of initial supplies. The VIERA 3D plasma display has native 1080p, 600 Hz capability and comes with liquid crystal glass shutter lens viewing glasses. A 3D Blu-ray Disc Player with Internet Connectable/Wi-Fi capability is also available from Panasonic. Harmonic's latest generation Electra 8000 encoder supports SD and HD, MPEG-2 and MPEG-4 AVC (H.264), as well as integrated statistical multiplexing, broadcast quality up/down-conversion and other unique features such as Jünger Level Magic™ automatic audio leveling adjustment. Electra 8000's groundbreaking architecture, featuring up to four channels in a single rack unit, significantly reduces operational costs with its high density and power efficiency, and facilitates the launch of new value-added video services such as 3D television.