VT iDirect, Inc. (iDirect), a company of Vision Technologies Systems, Inc. (VT Systems), has extended their partnership with Kymeta in an agreement to become an official reseller of the KyWay™ Terminal (KyWay Terminal) to the company's global base of mobility-focused partners.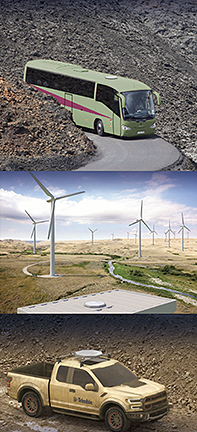 The Kymeta™ KyWay Terminal integrates ground breaking mTenna™ flat-panel antenna technology and the industry's leading iDirect X7 modem, to serve a broad range of mobility applications, uniting high throughput performance with a sleek form factor, electron ic steering, and attractive price point.

VT iDirect holds the market share lead for VSAT ground infrastructure in key mobility markets. This agreement provides VT iDirect customers with a strong competitive advantage to expand their footprint into new emerging mobility markets for the land mobile, maritime, government and defense.

According to Kymeta, the KyWay Terminal is the only commercially available electronically-steered flat-panel antenna solution built to scale and support many different mobility applications. The unique design and form factor of the Kymeta antenna, combined with VT iDirect's established VSAT platform, enables a new connectivity solution for land mobile markets such as trains, buses, agriculture and construction. The ability to offer a viable solution in these new segments is creating new demand for satellite services. The KyWay Terminal has already gained traction in key markets like maritime, government and military.

Neville Meijers, CCO and EVP, Kymeta, said that the firm's mission is to enable seamless, always-connected mobile communications. Kymeta is excited to make KyWay Terminals available to iDirect's ecosystem of leading connectivity solution providers. Together, the companies will enable a broad range of new mobility use cases that will make broadband available where it has never been before.

Kevin Steen, VT iDirect's CEO, added that Kymeta is playing a major role in revolutionizing satellite communications with their KyWay electronically-steered, flat-panel terminals. By combining the KyWay Terminal with the iDirect infrastructure, the company's channel of satellite service providers will gain a powerful competitive advantage to expand their mobility footprint and will be well-positioned to capture the emerging land mobility market.