[SatNews] Seven months after launch, and following extensive commissioning, ESA's Gaia satellite is ready to start its scientific mission.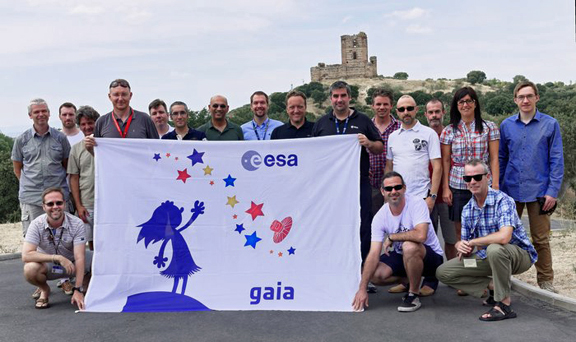 The science phase formally began on July 18, 2014, meaning that Gaia is now under the responsibility of the Mission Manager, William O'Mullane, and the Science Operations Centre team (pictured above) at ESA's European Space Astronomy Centre in Madrid, Spain. On this occasion, the Gaia flag also changed home. The Gaia Project Manager, Giuseppe Sarri, handed it over to William O'Mullane. This symbolic handover marks a new chapter in the mission's story. This is one of two flags that flew at Europe's Spaceport in Kourou, French Guiana during the weeks leading up to the launch on December 19, 2013. Shortly thereafter, the other flag was sent to ESA's European Space Operations Centre in Darmstadt, Germany, where the Mission Operations Centre has since been taking care of Gaia's health.
While the Mission Operations Centre receives the data from the satellite, the Science Operations Centre coordinates their distribution to the Data Processing and Analysis Consortium, who will eventually produce the Gaia catalog. The main goal of Gaia is to map the position and velocity of more than a billion stars in our Galaxy. Astronomers will be able to build the most precise 3D map ever of the Milky Way, unearthing many clues about its formation and evolution.
The design on the flag represents the attempt of humankind to reach for the stars, an enduring fascination that resonates with the scientific goals of the Gaia mission. Originally designed for the launcher fairing, the logo will now fly at two of ESA's establishments in Europe, looking forward to Gaia's measurements and to the many discoveries to come.
Additional information regarding Gaia is available at http://sci.esa.int/gaia/