This has been a year of achievements for Thuraya Telecommunications Company, and most recently they were acknowledged as MSS Operator of the Year at Satellite PRO's seventh edition of the ASBU BroadcastPro Selevision Awards in Dubai.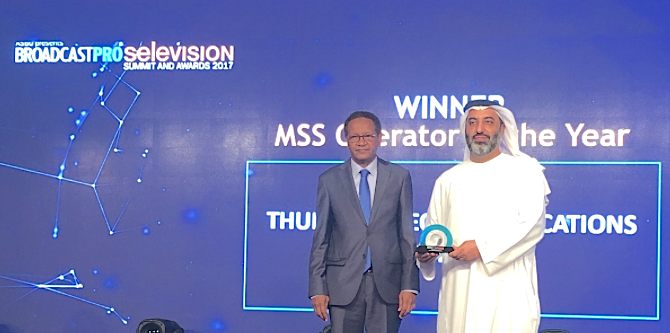 Ahmed Al Shamsi, Thuraya's A/Chief Executive Officer, was present at the gala ceremony and received the award on behalf of the company. The Awards cover a broad range of categories to reward excellence in various fields across broadcasting. Winners are selected by a panel of judges comprising broadcast experts from around the MENA region.
Thuraya's win recognizes a successful year for the company and comes after it arranged the largest deployment of satellite data terminals for a government project in Africa. Likewise, the award was a result of Thuraya's performance over the past year including its recent partnerships, global initiatives, customer-centric projects and product and service launches.
Ahmed Al Shamsi said that they are delighted to have won this prestigious award for their contribution in implementing the most successful and distinguished project of the year. It especially means a lot to have secured achievements through the current difficulties and challenges facing the industry. Thuraya's approach is to continue to innovate in everything they do, and ultimately is aimed at serving the community. They will always be ready to respond to changing demands by offering something which is unique, interoperable, easy-to-use, affordable and that meets the needs of the sectors and individuals they serve. Their portfolio additions over the past year are perfect examples of how well they respond to the market needs.
Clayton Vallabhan, Editor, SatellitePro ME, CPI Trade Media, added that Thuraya has been recognized for its market-leading products and its innovative approach towards every aspect of its business. Thuraya's ambitions are clear and the company is well placed to embrace the new opportunities it is creating for itself.
In 2017, Thuraya launched five products and services, adding major communication capabilities to the market. These releases include:
Thuraya SeaStar — a circuit switched voice terminal that is affordable, designed for harsh environments and brings advanced 'at sea' communications to small-scale operators
Thuraya WE — the world's first dual-mode Satellite and LTE hotspot
Thuraya Aero — an airborne data-sharing platform that provides in-flight connectivity through internet access, text messaging, phone calls, VOIP, video and audio conferencing, and aerial surveillance
Thuraya IP M2M — an advanced telemetry solution for IoT connectivity in remote locations that lie beyond-line-of-sight and beyond the range of terrestrial networks
Thuraya Talk — a first-of-its-kind Voice over IP (VoIP) service allowing customers a convenient way to stay connected and enhance communications for personal and professional use.
Thuraya established many strategic collaborations this year including an alliance with Gulfsat to launch first-time data services in Kuwait; a partnership with ELSE to expand IoT communication services and lay the foundation for future 'new wave' plans; an MoU with Huawei to further public safety ecosystems; a joint venture for the development of Thuraya Aero with the Aero Group — a consortium of global innovators consisting of Cobham, SCOTTY Group, SRT Wireless and led by smp aviation.