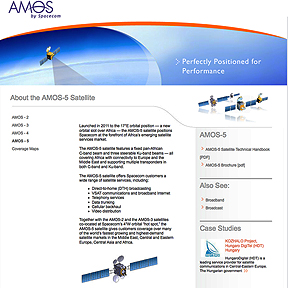 [SatNews] Spacecom (Tel Aviv Stock Exchange: SCC), operator of the AMOS satellite fleet, has been selected to provide broadcast capacity for...
...the 29th Africa Cup of Nations (AFCON) to be held in South Africa from January 19th through February 10th, 2013. Spacecom's AMOS-5 satellite at 17 degrees East will transmit every single game from all five South African stadiums in HD via its pan-African C-band.
AMOS-5 has been a prime mover of African sporting events since starting operations in January 2012. The communications satellite has transmitted the 2012 Olympic and Paralympic games from London to Africa, and the recent South African Super Rugby Games. AMOS-5 provides high-quality HD transmission of sporting events on both ad hoc and occasional use bases.
AMOS-5 serves Africa with a high power pan-African C-band and three Ku-band beams that, together, cover the entire continent with connectivity to Europe and the Middle East. The satellite is quickly becoming a key carrier of African satellite communications traffic in both broadcast and data services.