[Satnews] Keysight Technologies, Inc. (NYSE: KEYS) has introduced their new portfolio of technology extension and migration services that focuses on maximizing customers' test asset value and consequent utilization—Keysight's Technology Refresh Services program is making it easier to get the latest technologies while accessing limited funding.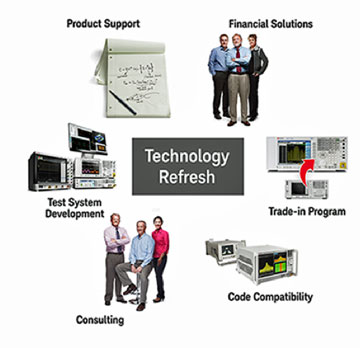 Technology advances across all industries are rapidly changing, while budgets are continuing to be constrained. Defense industry companies must adopt leading-edge test and measurement solutions while maintaining long-term program support to keep communications and security systems operating at peak performance over many years. The wireless industry needs to transition affordably to next-generation technologies, such as 5G. In addition, they need to speed up design, validation and test development to meet the tight time-to-market schedules and reduce the possibility of any design rework.

Keysight's portfolio of technology refresh services includes:

Trade in for eligible Keysight or non-Keysight test equipment offers attractive credits when trading in or trading up to new equipment. For example...
—50 percent credit when purchasing a new X-Series signal analyzers B version models.
—$30,000 (U.S.) credit on a new N995xA, N996xA FieldFox Handheld analyzer when trading in an eligible analyzer.
—50 percent credit for Infiniium V-Series and Z-Series Oscilloscopes when customers trade-in eligible oscilloscopes from any manufacturer.
Upgrades to extend the longevity of currently own products, this includes frequency range extension, bandwidth improvements, additional memory, adding applications and improving CPU/measurement speed. Customers can upgrade their existing Keysight X-Series signal analyzers, FieldFox RF and microwave analyzers and V-series and Z-series oscilloscopes, for example. For X-Series, customers can upgrade their existing A units to the new multi-touch screen display on all versions; EXA, CXA, MXA, and PXA.
Long-term support solutions, which is often critical in military systems and many manufacturing and R&D validation test systems. For example, Keysight's Warranty and Calibration Assurance Plans offer the lowest cost approach to lock in long-term support for 5, 7 or 10 years when customers purchase a new product. In addition, Keysight offers standard and custom extended service solutions for select older legacy models.
Keysight Premium Used program offers a vast selection of high-quality used test equipment at significantly reduced prices. Each unit is remanufactured to like-new specifications and appearance, with a standard 3-year warranty and eligibility for incremental assurance plan options.
Consulting services are available worldwide to help with migration planning and ensuring customers are getting the most out of their test and measurement solutions.
"Customers must maintain their test and measurement assets over long periods of time and to extract the maximum use and value from them," said John Page, executive vice president for Keysight's Services Solutions Group. "When customers require new technology, it can be a very expensive and difficult transition for them. Keysight recognizes the challenges they face and is leading the industry in providing the most cost effective solution with our technology refresh services program."