Communications systems on the battlefield are now rightly regarded as an essential component of mission success. For soldiers on the ground, radios and other communications devices are lifelines and are needed to summon fire support or seek casualty evacuation, or simply to confirm their location or receive new instructions.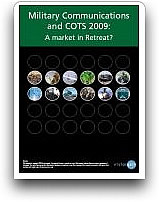 For commanders in nearby command posts or headquartered hundreds of miles away, communications are vital for giving orders or simply pinpointing the location of their forces. Although providers of products and solutions in this field must be aware that the high cost of platforms, coupled with the global financial crisis, may limit demand in the near future, the market for military communications is also likely to be supported by a number of powerful demand drivers, notably the need for allied information advantages in large-scale, operations such as those in Iraq and Afghanistan.
The
visiongain
report —
Military Communications & COTS 2009-2019: A Market in Retreat?
— discusses the present and future market for military communications. Visiongain critically examines the hypothesis that military communications spending may witness a retreat from the very high growth rates seen this decade. The report analyzes the market through a comprehensive review of available information. It provides the information needed to understand the military communications and
COTS
market. In addition to relevant sales forecasts, the report highlights important contemporary issues, including the key commercial drivers and restraints of the milcoms market. Sources used include interviews with industry experts, industrial news, policy documents and defence industry research. Visiongain also applies financial forecasting, qualitative analyses and an assessment of currently-unmet needs to provide a comprehensive market-based report with detailed analysis and informed opinion.