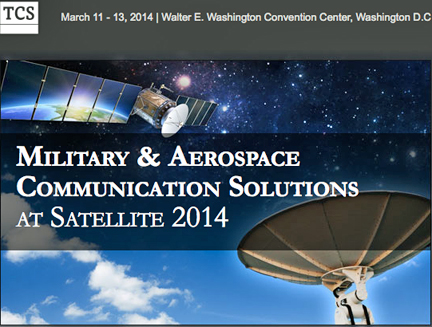 [SatNews] TeleCommunication Systems (TCS) will be presenting their latest products and technologies at booth #8045 during the upcoming Satellite 2014 show in Washington D.C.
On display will be the company's latest product and services offerings for land, sea and air applications, all designed to meet a wide variety of needs. These include:
TCS Space & Component Technology has developed a cost effective X/Y antenna pedestal technology that specializes in precision satellite tracking. These systems are specifically designed for the Low and Medium satellite tracking in support of Earth Observation, Remote Sensing, and TT&C applications. State of the art manufacturing techniques offers the most efficient product delivery schedule in the industry. Advanced Transmit (TX) and Receive (RX) feed technologies through Ka-band are available. The system does not require a radome for operation, but if required TCS can provide a low cost solution.
Now the broadest set of networking capabilities comes in the smallest TotalCom device. The TCS WarNET™ provides a routable, IP-based wireless MANET (Mobile Ad hoc Network) in an ultra-small rugged handheld device for connectivity on the move. Built with industry leading components from Cisco and Persistent Systems, the WarNET enables users to connect to VSAT, cellular, BLOS, Wi-Fi and wireless LOS networks anytime and anywhere. The Cisco 5921 Embedded Services Router (ESR) is a Cisco IOS software router application designed for extreme mobility and portability. The MANET radio enables peer-to-peer secure bandwidth data, video streams and voice. Three Ethernet ports provide connectivity to cellular modems, IP based video, cameras, smartphones and push-to-talk VoIP. This secure, rugged device is FIPS 140-2 certified, Suite B compliant, designed to MIL-STD 810G, and IP-67 rated.
The U.S. military is no longer simply enabled by the network – it is dependent on the network. The military must be capable of operating under volatile conditions and must stay ahead of adversaries' growing technological sophistication. Communications-On-The-Move (COTM) users have a critical need for some form of protection from electronic attacks because these users typically are smaller, highly mobile, widely dispersed groups. With the launching of the Advanced Extremely High Frequency (AEHF) satellites, the military can take advantage of a dramatic increase in capability, but there is a need for "low cost" terminals for widespread use by the tactical warfighter. The LCT solution enables assured, secure mission command at levels below the brigade combat team, anywhere in the world. Significantly more affordable than existing terminals, the LCT solution includes two variants of equipment: a Protected Communications-on-the-Move (P-COTM) terminal and a Protected SIPR/NIPR Access Point (P-SNAP) terminal, for communications at the halt. Both terminals are compatible with AEHF satellites and Milstar satellites.
Explore TCS Maritime Antenna Solutions that include multiband X/Ka shipboard, X- and Ka-band shipboard, and multiband Ku/Ka - C/Ku shipboard antennas.
For more information regarding TCS, please visit http://www.telecomsys.com/