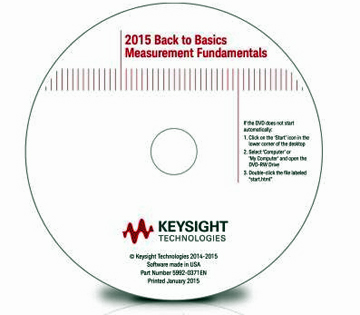 [SatNews] Obtain your free, 2015 Back to Basics DVD from Keysight Technologies that's loaded with dozens of new engineering resources for modern measurement fundamentals.
Measurement challenges are increasingly complex and the technologies are changing rapidly. The 2015 Back to Basics DVD includes more than 50 new application notes as well as webcasts and videos that cover a wide variety of modern measurement topics from design simulation to digital and modular instrumentation.
This list is just a sampling of what's new and updated for 2015:
Webcasts/Videos
10 Oscilloscope Innovations You Really Want
Fundamentals of RF Design
Network Analysis Fundamentals
Spectrum Analysis Fundamentals
Signal Generation Fundamentals
Why Calibrate? What is Calibration?
Application Notes:
ABC's of Arbitrary Waveform Generation
8 Hints for Making Better Digital Multimeter Measurements
Test-System Development Guide Computer I/O Considerations
Solutions for Measuring Permittivity and Permeability w/LCR Meters & Impedance Analyzers
PXI Interoperability – How to Make PXI-based Test Work for You
Why Complex Modulated Optical Signals?
10 Practical Tips you Need to Know About Your Power Products
USB Coaxial Switches for RF & Microwave Test and Measurement Applications
And more!
Don't miss out. Order your DVD while supplies last at this direct infopage.