SES S.A. (Euronext Paris and Luxembourg Stock Exchange: SESG) has now announced the completion of the capital raising to fund the acquisition of the remaining shares in O3b Networks, as announced May 26, 2016—the total gross proceeds from the capital raising amounts to 908.8 million euros.
SES will issue 39,857,600 million new Fiduciary Depository Receipts (FDRs) at a price of EUR 19.0. The number of new FDRs represents 11.6 percent of the existing number of total Class A shares.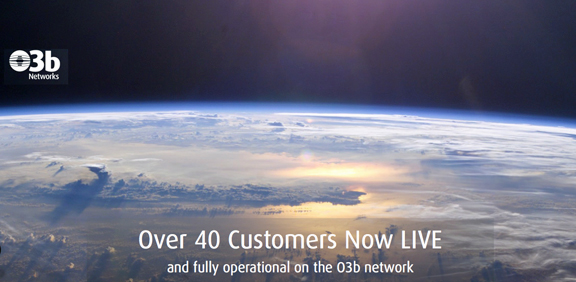 The Private Placement ("The Placement") is part of a capital increase in which the existing Class B shareholders (Banque et Caisse d'Epargne de l'Etat, Société Nationale de Crédit et d'Investissement and Etat du Grand-Duché de Luxembourg) have agreed to subscribe for 19,928,800 newly-issued Class B shares, pro rata to their existing holding of Class B shares, as is necessary to maintain the ratio of 1:2 with the Class A shares, as provided in SES's articles of association.
These new shares will rank pari passu with the existing A-shares and B-shares. Class B shares have 40 percent of the economic rights of Class A shares. As a result of the capital raising, the total number of shares will increase from 515.40 million to 575.19 million, and the total number of economic shares will increase from 412.32 million to 460.15 million.
SES will use the proceeds raised to fund the total consideration of USD 730 million to increase its ownership of O3b to 100 percent. The transaction is subject to regulatory approvals which are expected to be completed during H2 2016. SES will also use around USD 300 million to repay O3b's most expensive debt facilities, leading to a reduction in annual financing costs after initially covering any repayment charges.
The settlement-delivery and the admission of the new FDRs on Euronext Paris and the Luxembourg Stock Exchange (on the same line as SES's existing shares, ISIN Code: LU0088087324) is expected to take place on May 31, 2016. A Listing Prospectus is expected to be approved by the Commission de Surveillance du Secteur Financier (CSSF) in advance of settlement.
The Acquisition of 100 percent of O3b delivers significant benefits to SES:
Expanding SES's global network and solutions, by further incorporating O3b's unique, low latency satellite constellation, which is already in operation. O3b is a strong and positive fit within SES's thesis for building a future-proof and scalable technology solution
Augmenting SES's differentiated capabilities by leveraging the capabilities and features of the combined fleets to deliver the best customer offering across the data-centric verticals
Enhancing SES's foundations for sustainable growth with O3b's strong outlook representing an important accelerator of long-term growth
Accelerating commercial and financing synergies by bringing SES and O3b closer together
Delivering attractive returns within SES's financial framework, with the transaction generating an IRR in excess of SES's hurdle rate, while retaining the benefits of SES's investment grade credit status
Karim Michel Sabbagh, President and CEO, said, "Taking 100 percent control of O3b exceptionally strengthens the SES differentiation. O3b allows SES to expand its global reach and solutions, augments SES's essential capabilities across the data-centric verticals and enhances SES's foundations for sustainable growth.
"O3b's MEO constellation is a key accelerator in the execution of SES's differentiated strategy and substantially improves SES's competitive positioning, particularly for applications where low latency is an increasingly central feature. By moving to 100 percent now, SES and O3b can immediately begin to realize important commercial and financing synergies from bringing the two businesses even closer together.
"SES and O3b will be uniquely positioned to provide customers with the optimal combination of technologies and solutions across a global GEO/MEO satellite network, allowing SES, O3b and our customers to all grow together. The transaction will also allow SES and O3b to develop a common technology and innovation roadmap.
"The transaction exceeds SES's investment hurdle rates and will further enhance returns on SES's existing investment in O3b. The capital raising allows SES to capture the full benefits of O3b's fast-growing top-line and accelerate significant synergy opportunities, while re-affirming SES's long-standing commitment to maintaining its investment grade credit status (BBB/Baa2) and progressive dividend policy."