Benefiting wound veterans is the Ride Allegheny charitable bicycle trek that runs from Pittsburgh to Maryland, and to assist with this event two satellite phones have been donated by Globecomm.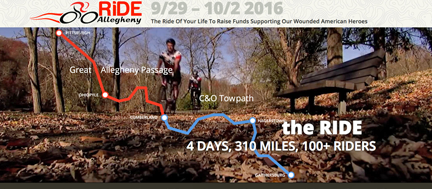 The phones will enable ride organizers to contact public safety officials if there is an emergency when the riders are beyond the range of cell phone coverage. Ride Allegheny started on September 29th in Pittsburgh, Pennsylvania, with more than 100 riders who will travel more than 300 miles—the ride ended in Gaithersburg, Maryland on October 2nd. Ride Allegheny partnered with Operation Second Chance by providing support to the needs of soldiers and their families to cover the gaps that are not covered by the US Government. Since 2005, the event has raised more $2 million for Operation Second Chance.
Jason Juranek, the Globecomm CEO/CFO, stated that the riders traversed some of the most remote routes in western Pennsylvania and western Maryland and the satellite phone units that were donated helped them stay in touch, no matter where they were located during their journey.

David Baseheart, the Ride Allegheny planning committee member, added, that his organization supports wounded veterans recovering from conflict injuries and the contributions of generous companies such as Globecomm help to make fundraising more effective for this worthwhile cause.