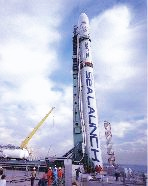 [SatNews] Following last week's Intelsat 19 Solar Array Deployment Failure after being launched aboard a Sea Launch Zenit 3SL rocket...
...Sea Launch released preliminary "Quick Look" payload unit (PLU) telemetry information to Intelsat S.A. and Space Systems Loral on June 8, 2012. The data covered the full mission profile from lift off at 22:23 Pacific Daylight Time (PDT) on Thursday, May 31st (05:23 UTC/GMT, Friday, June 1) through spacecraft separation. Sea Launch successfully inserted and separated the spacecraft into its predefined orbit, but it was later reported that the spacecraft failed to deploy one of its two solar arrays.
The Sea Launch Payload Accommodations, built by Boeing Commercial Space Company, is extensively instrumented, including accelerometers, pressure sensors, and microphones. All telemetry data obtained from the instrumentation has been processed and is of high quality.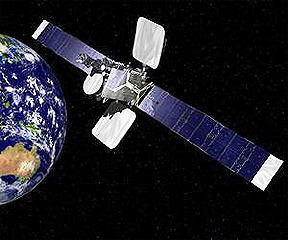 "The preliminary data review indicates that all systems performed nominally throughout the launch profile including fairing and spacecraft separation. The data indicates no exceedance of the environmental requirements defined in the Spacecraft Interface Control Document and the Sea Launch User's Guide and there is no indication of any re-contact during fairing or spacecraft separation events," said Energia Logistics Ltd. (ELUS) Chief Operating Officer Kirk Pysher. "Boeing engineers did note an unexpected, isolated event around 72 seconds after launch, which registered on microphones and pressure sensors. We have only seen this one other time out of the 31 flights and while it is premature to speculate on its origin until further analysis is complete, it bears a striking resemblance to a prior Space Systems/Loral mission."
The Telstar 14/Estrela do Sul 1 communications satellite, launched by Sea Launch on January 10, 2004, also experienced a failed deployment of one solar array. The investigation panel formed provided its findings to the satellite and insurance communities. Sea Launch went on to perform seven successful flights of SS/Loral's FS-1300 spacecraft since that time.
Per standard process, ELUS has declared an In-Flight Observation (IFO) for the unexpected event and will investigate fully, in order to determine the source of the event. The investigation will be headed by Richard W. Pudil, ELUS Chief Systems Engineer and will include independent subject matter experts. "While our preliminary review indicates that the launch vehicle systems performed well within family and requirements, we will continue our analysis of the available data in a thorough and methodical manner, characteristic of the Sea Launch approach to Mission Assurance" Pudil said. "We look forward to supporting Intelsat and Space Systems Loral in an expeditious review of the Intelsat 19 spacecraft issue."