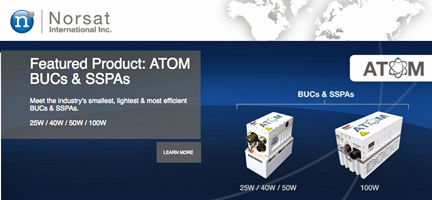 [SatNews] At CommunicAsia 2014, Norsat will be showcasing its new ATOM series of Ku-band Block Upconverters (BUCs) and Solid State Power Amplifiers (SSPAs).
These BUCs and SSPAs operate over a wider bandwidth and are smaller, lighter and more power efficient than comparable products currently on the market. ATOM series BUCs are easily integrated into a variety of systems, making them suitable for a wide range of applications including comms on the move, airborne/UAV amplifiers, TWTA replacement and portable VSATs.
Norsat has also launched a new solution for the military SATCOM market. The Norsat Ranger is a high performance ruggedized satellite terminal ideal for rapid deployments where portability is essential. The Ranger is available in 45cm and 60cm antenna sizes. Norsat offers an extensive line of MIL-SPEC portable SATCOM terminals with aperture sizes between 45cm-2.4 meters.
Norsat is also displaying new antenna and RF conditioning products from its Sinclair Division. Sinclair provides products, systems and coverage solutions for public safety, defense and private wireless networks globally. Sinclair's new TXC series of ceramic transmitter combiners provide space effective, high power and close frequency combining solutions for 700MHz and 800MHz systems. These combiners are expandable and can be configured from 1 to 12 channels.
For more information about Norsat's innovative microwave, SATCOM, RF and wireless solutions, please visit http://www.norsat.com/.