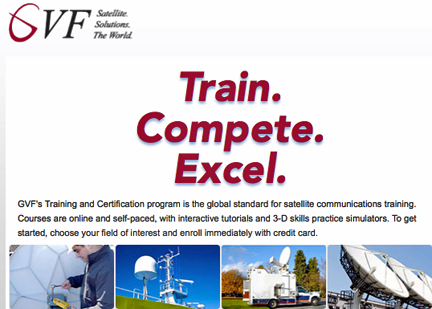 [SatNews] Committed to providing the best possible service for customers, Inmarsat is endorsing a training and certification program designed specifically for the introduction of Global Xpress (GX), the high-speed mobile broadband satellite service.

GX is scheduled for Commercial Service Introduction in the EMEA and Asia regions this summer, following the successful launch and testing of Inmarsat-5 F1, the first of Inmarsat's three Ka-band communication satellites. The Global VSAT Forum (GVF) training, open to all Forum members, will provide specific GX installation and operator training. Through Inmarsat's endorsement of GVF's online and face-to-face modules, installers and operators engaged in the introduction of GX will be encouraged to take up the opportunity of training designed to optimize the speed of deployment and use of GX systems. By introducing a standardized service, customers will be safe in the knowledge that their terminal performance will be optimized and the potential for interference to adjacent satellites will be significantly reduced. Inmarsat will be working with GVF, which manages the international satellite communications industry's Certification Program.

As GX systems and services are offered worldwide, Inmarsat's partners and customers will have access to an extensive portfolio of online courses, including offshore, maritime, military and SNG operator training, as well as product-specific training on systems that are integral to the GX solution. The online interactive curriculum, which was developed by GVF's training partner, SatProf, is available at http://www.gvf.org/training. The endorsement follows Inmarsat's decision to require type approval of GX terminals in co-ordination with the GVF Quality Products Framework. The association provides outsourced earth station type-approvals testing services through a mutually-recognized test framework and an industry-authorised network of testing entities. Major global and regional satellite operators rely upon the service, which is provided by GVF, through its Mutual Recognition Arrangement Working Group (MRA-WG).
"High Throughput Satellite services and 'Satcom on the Move' systems are redefining the way that next-generation broadband solutions are delivered," said David Hartshorn, Secretary General, GVF. "Inmarsat's endorsement of GVF Certification will help ensure that their customers have access to training that promotes the highest possible standards of performance."
For further information regarding GVF's training program, please visit http://gvf.org/training/training.html
For Inmarsat GX information, please visit http://www.inmarsat.com/about-us/our-satellites/global-xpress/