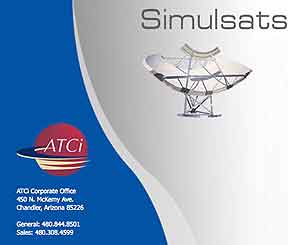 Antenna Technology Communications Inc. (ATCi), a provider of commercial SATCOM systems, has released the newest, most technologically advanced, Simulsat-5b Multibeam antenna.
The enhanced version takes the same quasi parabolic-spherical shape of the legacy
Simulsat 5
to the next level, with improved performance, surface accuracy, improved gain, and tolerance.
Simulsat
is the world's only multiple satellite antenna that is capable of receiving satellite transmissions from 35+ satellites simultaneously without adjustment or degradation in performance from one satellite to the next. For more than 20 years,
ATCi
has been providing programming to more than 30 million cable subscribers in the U.S. market.