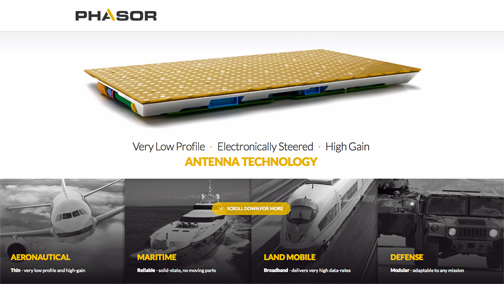 Phasor, Inc. and DSM are developing a unique protective cover (radome) made with Dyneema® for phased array, electronically steerable antennas (ESAs) — these radomes feature exceptional properties designed to achieve optimal performance across all satellite mobility use-cases.

Radomes are essential to shield satellite communications antennas from adverse weather and harsh conditions but are often bulky, heavy, difficult to manage, and can reduce an antenna's efficiency. These companies are working together under a long-term agreement to leverage Phasor's knowledge in the field of ESAs and DSM's experience with advanced Ultra High Molecular Weight PolyEthylene (UHMWPE materials) for use in radio frequency (RF) applications.

Phasor's very low profile ESA provides high-bandwidth service in a more reliable, robust and failure-tolerant way. The antenna is solid-state, with no moving parts, so satellite signals are tracked electronically. The ESA can be flat or conformal in design and can be fitted more seamlessly to moving vehicles, including an aircraft fuselage, a cruise-ship or a high-speed train. The same technology is very well suited to support traditional fixed satellite networks (FSS), High Throughput Satellites (HTS), and Non-Geosynchronous (NGSO) satellite networks. Moreover, the antenna's modular architecture allows the system to be scaled to any use-case requirement, fixed or mobile.

Dave Helfgott, the CEO of Phasor, noted that with near-zero signal loss, Dyneema® Crystal technology helps Phasor optimize the company's powerful new ESA for aeronautical, maritime and land-mobile applications. In addition to the material's electromagnetic transparency, Phasor selected Dyneema® for its superior protection of sensitive equipment in harsh outdoor environments and its extreme light weight which is critical for commercial mobility applications.