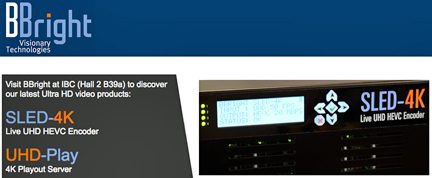 [SatNews] BBright has partnered with MultiCoreWare since the x265 project inception as one of the initial funding members—the two companies believe that a collaborative effort to implement the most advanced video codec is the key to ensure the fastest time-to-market for HEVC and the widest interoperability between encoders and consumer devices.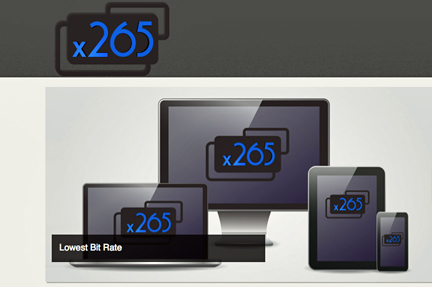 BBright's team has developed a number of in-house parallelization algorithms in order to run parallel instances of x265 across multiple processors to insure high quality and throughput. Such specific software architecture allows live encoding workload, flexibility and scalability to match with early adopters' custom technical requirements for UHD encoding. During the upcoming IBC 2014 show, BBright will unveil its first real-time SLED-4K encoder product for Broadcast, IPTV, OTT applications. This new SLED-4K appliance has a 4RU only form-factor and is expected to be the slimmest on the market (at the date of writing). With built-in hardware and software redundancy, the SLED-4K encoder is aimed to trigger the launch of UHD field trials or live channels at a more reasonable price than any other existing or emerging encoding propositions.
The x265 encoder is available under open source or commercial licenses. Interested individuals and companies are encouraged to contribute to the project and are invited to learn more at http://x265.org. As an open source project, access is free under GNU GPL 2 licensing, and commercial licenses are available for companies wishing to use the resulting implementation in their products.
BBright will show the SLED-4K for Ultra-HD HEVC live encoding at the International Broadcasters Convention (IBC2014) in Amsterdam, being held from September 12th to 16th on booth B39a - Hall 2, French Pavilion.
The BBright infosite may be accessed at http://www.bbright.com/